Andrew Pike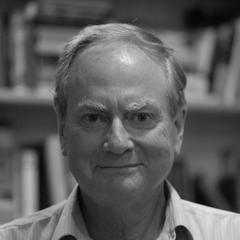 After completing an M.A. on the history of Australian cinema at the Australian National University, Canberra, Andrew worked as a cinema manager for a number of years while he researched and co-authored (with Ross Cooper) a major book documenting Australia's film history, Australian Film 1900 - 1977, published by Oxford University Press in 1980. Andrew also researched and wrote many articles on film, published in magazines and newspapers; and made several short films.
Andrew also served for three years as Consultant to the National Library's National Film Collection, on the acquisition of films for study purposes in schools and universities. He also worked for three years as a Research Fellow in the Department of Pacific History at the A.N.U. There he co-directed an award-winning documentary, ANGELS OF WAR [1982], about the experiences of the people of Papua New Guinea in World War Two.
In 1974, he formed Ronin Films with his wife, Dr Merrilyn Pike, a specialist in China studies. The company was involved in many innovative distribution and marketing activities, especially the theatrical release of documentaries.
Andrew has a keen interest in policy issues affecting the film industry as a whole and is a frequent contributor to debates on industry issues. For example, he instigated forums on film culture at both the Sydney and Melbourne Film Festivals in the year 2000. He was also engaged as a consultant on regional cinemas by the New South Wales Film and Television Office.
Andrew is also active in promoting an expansion of audiences and a wider public appreciation of all aspects of cinema. For many years he wrote programme notes for a weekly newsletter that was emailed to over 4,500 cinema patrons in Canberra. He also makes occasional ABC radio broadcasts, and gives occasional courses on film appreciation for the adult education service at the Australian National University.
He was an advocate for the formation of a viable film and television office in the Canberra region, and was a Founding Member and Secretary of the A.C.T. Film and Television Council, Inc.
2017: appointed Director of the Canberra International Film Festival.
2009: began an on-going association with the Asia Pacific Screen Academy, initially as a Jury member in their annual Awards, and subsequently from 2010 to the present day as Chair of the MPA APSA Film Fund. This fund has achieved an unusually high success-rate among the projects it has supported financially in the Asia-Pacific region, most notably Asghar Fahardi's Oscar-winning A SEPARATION (2011) from Iran.
2008: appointed to the Board of the newly created independent National Film and Sound Archive, and served until 2012.
2007: Awarded a Medal in the Order of Australia for his services to the film industry and the community.
Awarded on Honorary PhD by the University of Canberra.
2005: Plaque erected in the ACT Honour Walk in Canberra City, for contributions to the community.
2004: Named by the Canberra Times as one of 75 Canberra citizens who have contributed to the shape and vitality of the local community.
2003: Founding Member and Secretary of the A.C.T. Film and Television Council, Inc.
2003: Appointed by the French Government to the rank of Chevalier dans L'Ordre des Arts et Lettres for his work in the distribution and exhibition of French cinema in Australia.
2000 - 2003: Member of the Council of the National Film and Sound Archive.
1999: Founding Member of the Friends of the National Film and Sound Archive, Inc. Elected President of the Friends in 2004.
1992: Special award from the Australian Film Critics' Circle for contributions to the film industry.
1989 - 1992: Member of the Board of the Australian Film Commission.
1986: Won the Australian Film institute's Byron Kennedy Award for contributions to the film industry.
As a documentary writer-director, his films include ANGELS OF WAR (released in cinemas and broadcast by ABC), THE CHIFLEYS OF BUSBY STREET (released in cinemas), EMILY IN JAPAN (broadcast by ABC and NITV), and MESSAGE FROM MUNGO (released in cinemas and broadcast by NITV). His films have won many awards including the AFI Award for Best Documentary and Sydney Film Festival Best Documentary (both for ANGELS OF WAR), and a United Nations Association Media Award for MESSAGE FROM MUNGO. With his daughter, Harriet Pike, he co-produced the feature-length documentary, ACROSS THE PLATEAU, filmed in China and Tibet by Chinese director, Zhang Zeming.
Filmography
| | |
| --- | --- |
| | Winner, Best Documentary, Hawaii International Film Festival. John Waiko is the first Papua New Guinean to reach the status of professor... |
| | This documentary by Gary Kildea, director of such ethnographic film classics as TROBRIAND CRICKET and CELSO AND CORA, is an intimate "family portrait" of a charismatic musician and the community of students and colleagues around him... |
| | Dr Susan West was trained as a music educator in Australia, Hungary and New York. For 5 years she was a principal flautist with the Sydney Symphony Orchestra... |
| | Betelnut is one of the most widely used narcotics in the world. In the coastal areas of Papua New Guinea, where it is grown, it has been a socially acceptable stimulant since ancestral times, but in the central Highlands where the majority of the population live, it is a relatively recent arrival... |
| | ANGELS OF WAR captures the experiences of villagers who lived through the Papua New Guinea campaign. Caught up in a war they could not understand or influence, they had no choice but to obey whoever held the gun... |
| | WINNER! SPECIAL AWARD FOR BEST FILM at the 7th Ya'an Panda Natural History Documentary Film Festival in China, 2014! --------------------------------------------- China used to be called "the Bicycle Kingdom"... |
| | WINNER of Canberra Critics' Circle Award for Film, 2009: "a brilliant cinematic exercise in 'People's History'". Ben Chifley (1885 – 1951) was a railway engine-driver who became Australia's best-loved Prime Minister in 1945... |
| | Behind the scenes of the blockbuster exhibition of paintings by the Indigenous artist Emily Kame Kngwarreye which toured Japan attracting record crowds... |
| | For 27 years, Electric Shadows served as an independent cinema in Canberra, running high quality films for discerning audiences... |
| | This documentary (formerly released as THE BIG GIG) explores some of the strategies involved in applying the radical philosophy developed over many years in music education by Dr Susan West of the School of Music at the Australian National University... |
| | A melodrama by Ian Warden inspired by the battle over choosing the Site for the National Capital. Commissioned by St John's Schoolhouse Museum Board of Management, and produced by the Queanbeyan Players... |
| | Late in 2013 the Music Engagement Program (MEP), of the School of Music at the Australian National University, initiated a practical instrumental project in music and skill-sharing called the MEP String Project... |
| | OFFICIAL SELECTION! 2015 BYRON BAY INTERNATIONAL FILM FESTIVAL (March) WINNER! 2014 UNITED NATIONS ASSOCIATION OF AUSTRALIA MEDIA AWARDS in the Special Category of "Promotion of Indigenous Recognition" FINALIST! Best Documentary (History), 2014 ATOM AWARDS "Repatriation is one of the most important social issues of our times for Indigenous communities around the world... |
| | AVAILABLE NOW ON DVD! All-Region, PAL or NTSC versions available - with optional English subtitles for anyone who has trouble with Aussie accents!... |
| | DVD 1: The Conversation with David MacDougall Recorded on 2 October 2013, Canberra. Running time: 135 mins. DVD 2: The Conversation with Judith MacDougall Recorded on 22 July 2014, Canberra... |
| | ALTERNATIVE WORKING TITLE: DIGGERS ON THE KLONDIKE. A NEW DOCUMENTARY, NOW IN DEVELOPMENT, DUE FOR PRODUCTION IN 2020-21, AND RELEASE IN 2021-2! The experiences of "the motley throng" of Australians and New Zealanders, who went across the Pacific with "upturned sleeves and a swagger", to the last great gold rush of modern times - to the Klondike goldfields in the far north-west of Canada in the late 1890s... |
| | In this documentary, made for the 20th anniversary of the release of SHINE, director Scott Hicks recalls the long development of the project and the gradual assembly of a remarkable production team including actor Geoffrey Rush, producer Jane Scott and screenwriter Jan Sardi... |
| | Prior to the production of SHINE in 1996, Geoffrey Rush was a renowned theatre actor in Australia but had had little involvement in film... |
| | David Hirschfelder was the composer of original music, and music arranger, for the Oscar-winning feature film SHINE (1996)... |
| | WINNER! BEST DOCUMENTARY, Geek Film Festival, Toronto, Feb 2021. FINALIST! AniMate Australia Animation Film Festival 2021... |