EMILY IN JAPAN - The Making of An Exhibition
Year: 2009
Classification: PG
Runtime: 82 min
Produced In: Australia
Directed By: Andrew Pike
Produced By: Harriet Pike
Language: English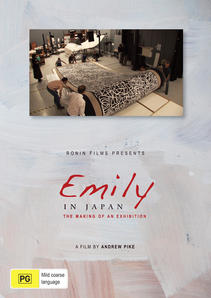 price includes GST and postage

Behind the scenes of the blockbuster exhibition of paintings by the Indigenous artist Emily Kame Kngwarreye which toured Japan attracting record crowds.
This DVD contains the full, unabridged version of the film, with approx 25 minutes of outstanding footage not shown in the shortened TV version. The DVD also includes a selection of fascinating Extras including a full interview with the curator of the Emily Exhibition, Margo Neale, recorded on "Sorry Day", 13 February 2008.
NOTE: A bi-lingual book/catalogue for the Exhibition in Japan is also available from Ronin Films. This substantial high quality book, full of superb reproductions of Emily's work on glossy art paper, and introductory essays in both English and Japanese, is available for purchase from Ronin. Follow this link for more information: www.roninfilms.com.au/video/2221/0/2262.html
---
Emily Kame Kngwarreye was an Aboriginal woman from Utopia in central Australia who began to paint on canvas when she was about 78 years old. In the 8 years before her death in 1996, she produced a staggering output of over 3,000 canvasses, some of which are now valued more highly (in monetary terms) than the work of most other female Australian artists.
The exhibition of Emily Kame Kngwarreye's paintings which toured to Osaka and Tokyo in 2008 is arguably the biggest, most comprehensive single artist exhibition to travel internationally from Australia.
EMILY IN JAPAN is the story of the making of this landmark exhibition, with all of the complex cross-cultural transactions that were involved – from the red desert of central Australia where Emily lived, to the National Museum of Australia in Canberra, where the exhibition was curated, and to the high end of the art world in Japan.
The driving force behind the exhibition is Margo Neale, an Indigenous art curator and historian, who had mounted an earlier, smaller exhibition of Emily's work for the Queensland Art Gallery in 1998. This earlier exhibition had attracted the attention of a Japanese scholar and art critic, Professor Akira Tatehata, and it became his personal mission to bring such an exhibition in Japan. The working relationship and friendship between Margo Neale and Professor Tatehata, and their shared passion for Emily's art, is at the core of the film.
The exhibition in Osaka and Tokyo was a major media event and attracted record-breaking crowds. The success of the exhibition signifies the achievement of one of Emily's dreams that Margo undertook to realise: that her work, her stories, be seen by people around the world. It gives to this elderly woman from Utopia her rightful place as one of the world's leading modernist artists and as an eminent Australian.
VIEW THE TRAILER HERE: vimeo.com/410891181
Directed by Andrew Pike
Produced by Harriet Pike
Photography and editing by Scott Wombey
Additional photography by Mike Kenneally, Gary Kildea, Greg Parish ACS, Rob Perry, Benita Tunks, Jodi Neale, Alex Chapman
Additional editing by Mike Kenneally, Clare Young
Special thanks to Margo Neale, Janet Holmes a Court, David Jowsey, David Richard, Emmanuel Notaras, Michael Walsh
Produced with assistance from the National Museum of Australia and the Australia-Japan Foundation.
---
"I write to say how much I enjoyed your wonderful DVD on Emile Kngwarreye. ... It was in short a triumph – at once moving emotionally, deeply spiritual and visually extraordinary. While the interviews were absorbing in themselves, the works were presented with both affection and insight.
There is no doubt that the DVD would be an invaluable tool in Australian (and Japanese) schools – in primary as an introduction to Aboriginality; in high school as a means of generating broad-ranging social, political and artistic discussion.
Congratulations on a singular contribution to Australian culture."
- Dr David Headon, History Adviser, Centenary of Canberra, ACT Chief Minister's Department.
---
"A wonderful documentary. The complex organisation of such an exhibition of artwork is truly mind-boggling. Margo's energy and organisational skills are something else! The film touched on the importance of Aboriginal artworks not only in a domestic setting but in the very important international setting of Japan. Recognition of Aboriginal artists has a longer history overseas than it has had here until recently. It's the same with films, both documentary and feature. Your film highlighted the importance of these cultural exchanges. Although the film is about a high energy process you did manage to bring in the calming techniques similar to those used by David MacDougall to steady the film narrative and provide a very reflexive tone. I see the film as accomplishing three goals. First, profiling an Aboriginal artist and providing some narrative about her background including where she lived and how she painted. She certainly did have some very prolific years. ... Second, the film demonstrates the machinations of organising such an exhibition. There is a lot of Margo in the film and her story weaves between Emily's, hers and the Japanese promoter Professor Tatehata. I think the editing achieved this very well. The third, is the very interesting take on the Japanese promoter, Professor Tatehata and the background to his story. I found him and the teams at the galleries made a good interchange, helping the film's viewers to understand their take on Aboriginal art. Together these three narratives were well balanced and showed the importance of these cultural exchanges."
- Dr Jennifer Debenham, School of Humanities and Social Science, University of Newcastle.
---
Related files