Harriet Pike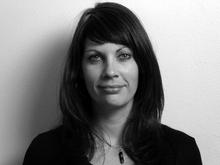 Harriet Pike worked at Ronin from 2005 to 2010 as Business Development Manager, before striking out as a Producer with WildBear Entertainment in Canberra. Harriet has a distinguished academic record in business studies at Griffith University and has worked in a variety of corporate sectors in project management whilst always maintaining her love and enthusiasm for film.
Whilst at Ronin, Harriet co-produced several feature-length documentaries with her father, Andrew Pike - ACROSS THE PLATEAU, THE CHIFLEYS OF BUSBY STREET, EMILY IN JAPAN, and was co-producer on MESSAGE FROM MUNGO.
At WildBear, she has co-produced BUILDING AUSTRALIA, WHO WE ARE IN SPORT and in 2014, WHEN THE QUEEN CAME TO TOWN.
In 2014, she was recipient of the Natalie Miller Fellowship and participated in an intensive workshop for Women in Leadership, held at Oxford University.
Filmography
WINNER! SPECIAL AWARD FOR BEST FILM at the 7th Ya'an Panda Natural History Documentary Film Festival in China, 2014! --------------------------------------------- China used to be called "the Bicycle Kingdom"...

WINNER of Canberra Critics' Circle Award for Film, 2009: "a brilliant cinematic exercise in 'People's History'". Ben Chifley (1885 – 1951) was a railway engine-driver who became Australia's best-loved Prime Minister in 1945...

Behind the scenes of the blockbuster exhibition of paintings by the Indigenous artist Emily Kame Kngwarreye which toured Japan attracting record crowds...

For 27 years, Electric Shadows served as an independent cinema in Canberra, running high quality films for discerning audiences...

Presented by Aaron Pedersen, six Indigenous sports stars - Nova Peris, Mark Ella, Kyah Simon, Phil Krakouer, Des Abbott and Anthony Mundine – talk about their experiences, achievements and challenges on the track, in the ring, on the sports field – and in life...

BUILDING AUSTRALIA

"Sharp graphics and lovely cinematography, succinct talking heads, and Doyle's lovely turn of phrase, all combine to make this a really engaging journey" - Melinda Houston, Canberra Times, 28 July 2013 ---------------------------------------------- The six episodes of BUILDING AUSTRALIA explore the history of our houses...