WHO WE ARE IN SPORT
Year: 2012
Classification: Exempt - Ronin Recommends: G
Runtime: 49 min
Produced In: Australia
Directed By: Allan Collins
Produced By: Harriet Pike
Language: English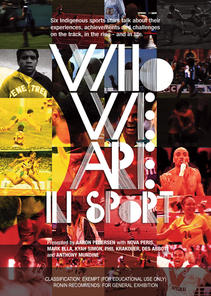 price includes GST and postage

Presented by Aaron Pedersen, six Indigenous sports stars - Nova Peris, Mark Ella, Kyah Simon, Phil Krakouer, Des Abbott and Anthony Mundine – talk about their experiences, achievements and challenges on the track, in the ring, on the sports field – and in life.
Richly illustrated with a wealth of archival footage, these portraits offer a simulating insight into the worlds of some of our nation's greatest champions. But the film is not just about sport: it explores how sport works as a catalyst for social change and has enabled people to overcome social and political barriers.
Our characters follow in the footsteps of many great Indigenous sports people, and now at an elite level in their respective fields, they are faced with managing the pressures of fame, social expectations and the legacy they will leave behind them.
The film is beautifully executed and often moving, and is made by an outstanding trio of Indigenous filmmakers, led by Allan Collins as director, Murray Liu as photographer, and David Tranter as sound recordist, and produced by the Canberra based Bearcage group.
Related files