Allan Collins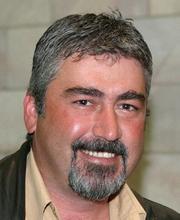 ALLAN COLLINS ACS
Allan graduated in cinematography from the prestigious Australian Film Television and Radio School (AFTRS) in 1996.
An Australian Film Institute (AFI) and Independent Film (IF) award winner for his cinematography on Ivan Sen's beautiful debut feature film BENEATH CLOUDS.
Allan was the first Indigenous person to receive the honour of accreditation to the Australian Cinematographers Society.
Allan as Co-Director/D.O.P. was selected in 2005 SUNDANCE Film Festival with his film DHAKIYARR VS THE KING in competition 'World Cinema Documentary'.
SPIRIT STONES, Allan's 2007 Documentary was nominated for the Sydney Film Festivals Dendy Awards in the 'Most Innovative' category.
In November 2009 Allan won a 'Gold Award' in the QLD/NT ACS Awards for his work as D.O.P. on the Western Australian 1920's period TeleFeature 3 ACTS OF MURDER produced by Sue Taylor and directed by renowned Australian director Rowan Woods.
In 2009 Allan recently finished shooting the feature film, MAD BASTARDS, set in Western Australia's remote and rugged Kimberley region.
Allan continues to work throughout Australia on a varied slate of projects, from within his own community, through to mainstream drama, documentary and commercial production.
______________________________________________________________
PRODUCTIONS
2009
"MAD BASTARDS"
Feature Film
Director of Photography
Gauge – 35mm
MB Productions
Directed by Brendan Fletcher
Produced by David Jowsey, Brendan Fletcher, Alan Pigram, and Stephen Pigram
2008
"3 ACTS OF MURDER"
95 min TeleFeature
Director of Photography / Camera operator
Gauge - Super 16mm to HDCAM SR
ABC/Taylor Media
Directed by Rowan Woods
Produced by Sue Taylor / Taylor Media
Gold Award QLD/NT ACS Awards 2009
2007
"TO HELL AND BACK"
90 min Feature film
2nd unit DOP/cam op (Part)
Gauge - HDCAM
Directed by Richard Frankland
Produced by Ross Hutchens / Media World Pictures
2007
"SPIRIT STONES"
1hr documentary
Gauge - HD Varicam / Super 8
Directed by Allan Collins
JAG Films / ABC TV
2007
"WILLABERTA JACK"
½ hr documentary
Director of Photography / Camera Operator
Gauge - Digital Betacam
Directed by David Trantor
C.A.A.M.A Productions

2006
"DOUBLE TROUBLE"
13 x ½ hrs children's TV series on Channel 9 and FOXTEL
Director of Photography / Camera Operator Gauge - Digital Betacam
Producers Terry Jennings & Rachel Clements
C.A.A.M.A Productions
2006
"SONGLINES TO THE SEINE"
52 min Documentary
Director of Photography / Camera Operator
Gauge - Digital Betacam/Super 8mm
Producer Aline Jacques
Director: Julie Nimmo
Essential Viewing
2006
"SUNSET TO SUNRISE"
½ hr Documentary
Director / DOP
Gauge - Digital Betacam
Exec. Producer Rachel Clements
Barbara Clifford
C.A.A.M.A Productions
Premiered in 2007 Message Stick Festival
2006
"BUTTON"
17mins Short Film
Director of Photography / Camera Operator
Gauge - Super 16mm
Produced by Melinda Tually
NSW Young Filmmakers Fund
2005
"THE ALICE"
22 x one hour drama series for channel NINE
Director of Photography / Camera Operator of Alice Springs Unit
Gauge - Super16mm
Directors - Catriona Mckenzie, Ian Watson, Sean Seet, Diana Reed, etc.
Southern Star Network
Channel Nine Television Network Australia
2005
"THE ALICE"
92 Min Telemovie-TV Series Pilot
Gauge - Super 16mm
Main Unit Camera Operator,
2nd unit Director of Photography / Camera Operator
Director of Photography: Louis Irving ACS
Director: Kate Dennis
West St. Productions
Southern Star Network
Channel Nine Television Network Australia
2004
"DHAKIYARR VS THE KING"
56 Min Documentary
Gauge - Digital Betacam / super 8mm
Co-Director / Director of Photography / Camera Operator
Co-Director, Writer Tom Murray
Mayfan Films Pty Ltd
Film Australia, ABC TV
Official Selection Sundance Film Festival
Dendy award winner Rouben Mamoulian Award for Best Film in the Dendy Awards
2004
"FIVE SEASONS"
55 Min Documentary
Director of Photography / Camera Operator
Gauge - Digital Betacam / Super 16mm
Director: Steven McGregor
C.A.A.M.A. Productions
Produced for C.B.C. Canada / S.B.S. Independent
2003
"INTERNATIONAL COMMERCIAL"
Libra Pads "GOLDFISH"
Director of Photography / Camera Operator
Gauge - 35mm
Director Ray Lawrence
Sydney Film Company
Produced For Agency: Clemenger BBDO Melbourne
2003
"NATIONAL COMMERCIAL"
Toyota Echo "DAD"
Director of Photography / Camera Operator
Gauge - 35mm
Director Ray Lawrence
Sydney Film Company
Produced for Agency: Saatchi & Saatchi Sydney
2002
"COLD TURKEY"
50 Min Short Feature
Director of Photography / Camera Operator
Gauge - Super 16mm
Director: Steven Mcgregor
C.A.A.M.A. Productions
Produced for A.F.C. / S.B.S. Independent
Australian Cinematographers Society S.A. & W.A. Branches: Silver Award "Cold Turkey"
Down Under International Film Festival, Winner: Best Cinematography "Cold Turkey"
2002
"LONG SHADOWS"
52 Min Documentary
Director of Photography / Camera Operator
Gauge - Digital Betacam
Director: Kate Hampel
Melodrama Pictures
Produced for F.F.C. / S.B.S. Independent
Australian Cinematographers Society S.A & W.A. Branches: Silver Award "Long Shadows" 2002
2001
"BENEATH CLOUDS"
92 Min Feature Film
Director of Photography / Camera Operator
Gauge - 35mm
Director: Ivan Sen
Autumn Films
Produced for SBS Independent
Australian Film Institute Awards (AFI) Winner:2002
Best Cinematography in IF Awards 2002 Winner:
Feature Film 2002
The Kodak IF Award for Best Cinematography
Australian Film Critics Circle Awards nominated for:
Best Cinematography in Feature Film 2002
Australian Cinematographers Society S.A & W.A. Branches:
Silver Award "Beneath Clouds" 2002
Tudawali Film & Video Awards 2002 winner:
Best Cinematography Henry Mayer Media Prize 2003
Inaugural Prize Cinematographer "Beneath Clouds"
2001
"MISTAKE CREEK"
26 minute Documentary
Director / Director of Photography /Cam Op
Gauge - Digital Betacam
CAAMA Productions
1 episode of 6 SBS TV Documentary Series "Everyday Brave"
Produced for Film Australia / SBS Independent
Australian Cinematographers Society Awards SA and WA Branches:
Gold Award "Mistake Creek" 2001
Canada Sheaf Awards 2002 nominated for: Best Documentary under 30 minutes
Tudawali Film & Video Awards 2002 winner: Best Documentary Series
2001
"WHISPERING IN OUR HEARTS"
52 Min Documentary
Director of Photography / Camera Operator
Gauge - DV Cam / Mini DV / 16mm B&W film
Director: Mitch Torres
Mayfan Productions
Produced for FFC/SBS Independent
Australian Cinematographers Society Awards SA and WA Branches: Silver Award "Whispering in Our Hearts" 2001
2000
"REMEMBERING COUNTRY"
28 Min Documentary
Director of Photography / Camera Operator
Gauge - DVC Pro 50
Director: Kate Gillick
Produced for SBS Independent
1999
"ROAD"
30 minute Drama
Director of Photography / Camera Operator
Gauge - 35mm
Director: Catriona Mackenzie
Produced SBS Independent
Flickerfest Australian International Short Film Festival 2001
Best Cinematography in an Australian Short "Road"
Australian Cinematographers Society Awards SA and WA Branches: Gold Award "Road" 2000
1999
"DUST"
30 minute Drama
Director of Photography / Camera Operator
Gauge - Super 16mm
Director: Ivan Sen
Autumn Films
Produced for SBS Independent
Australian Cinematographers Society Awards SA and WA Branches: Silver Award "Dust" 2000
St Kilda Film Festival 2000 - Kodak Award Best achievement in Cinematography "Dust "
1999
"WIND"
30 minute Drama
Director of Photography / Camera Operator
Gauge - 35mm
Director Ivan Sen
Produced for AFC/SBS Independent
Australian Film Institute Awards: nominated for
Best Cinematography in a Non Feature "Wind"1999
National Australian Cinematographers Society Awards: Award of Distinction "Wind" 2000
Flickerfest Australian International Short Film Festival 1999 Best Cinematography in an Australian Short "Wind"
Australian Cinematographers Society Awards, SA and WA Branches: Gold Award "Wind" 1999
1998
"TEARS"
12 minute Drama
Director of Photography / Camera Operator
Gauge - 16mm
Director Ivan Sen
Autumn Films
Produced for AFC/SBS Independent
St Kilda Film Festival 1998 – Kodak Award
Best Achievement in Cinematography "Tears"
Australian Cinematographers Society Awards SA and WA Branches Silver Award "Tears"1998
1998
"JOURNEY"
23 minute drama
Director of Photography / Camera Operator
Gauge - Super 16mm, 35mm blow up
Director Ivan Sen
Produced for ABC TV & Festival of the Dreaming
Australian Cinematographers Society Awards SA and WA Branches: Gold Award "Journey"1998
St Kilda Film Festival 1998 – Kodak Award
Best Achievement in Cinematography "Journey"
*Also awarded to "Tears" in the same festival
1997
"MY COLOUR YOUR KIND"
12 minute Drama
Director of Photography / Camera Operator
Gauge – Super 16mm
Director Danielle Maclean
CAAMA Productions
Produced for AFC/SBS Independent
Flickerfest Australian International Short Film Festival 1998, Best cinematography in an Australian Short "My Colour Your Kind"
Australian Cinematographers Society Awards SA and WA Branches, Gold Award "My Colour Your Kind" 1998
1997
"APEKATHE"
26 minute documentary
Director of Photography / Camera Operator
Gauge - SP Betacam/16mm
Director Steven McGregor
Produced for ABC-TV – National Indigenous Documentary Fund
Australian Cinematographers Society Awards SA and WA Branches: Highly Commended "Apekathe" 1998
1997
"MILERUM"
26 minute documentary
Director of Photography / Camera Operator
Gauge - SP Betacam
Director Robert Crompton
Produced for ABC-TV National Indigenous Doco Fund
1996
"WARM STRANGERS"
8 minute short film drama
Director of Photography / Camera Operator
Gauge - Super 16mm black and white
Director Ivan Sen
Produced for AFTRS
Australian Cinematographers Society Awards SA and WA Branches: Highly Commended "Warm Strangers"
1996
"CROUCHING AT THE DOOR"
12 minute short film
Director of Photography / Camera Operator
Gauge – Super 16mm, 35 mm blow up
Director Marzena Domoradzka
Produced for AFTRS
1996
"JOURNEY TO LOMBOK"
52 min Documentary
Director of Photography / Camera Operator
Gauge – Mini DV
Director Oren Siedler
Locations - Lombok, Indonesia, Hermannsburg, Western MacDonnell Ranges, Central Australia
Produced for AFC & CAAMA Productions
1992-1995
Aboriginal Australia – T.V. Magazine Style Series
Various Episodes – Various Directors
Director of Photography / Camera Operator
13x30 Min annually Aboriginal Current Affairs
1992 - 1995
Nganampa Anwernekenhe - T.V. Documentary Series
A series of programs helping to maintain Aboriginal languages and culture through music, art, stories, dances and the various languages of the first Australians
Filmed throughout Central, Northern, & Southern Australia
Produced for Imparja Television, CAAMA and AFC Sydney
13 x 30 min programs annually.
Series 6 - 6.1, 6.6
Series 7 - 7.1, 7.2, 7.5, 7.8, 7.10, 7.12
Series 8 - 8.1, 8.5, 8.6
Series 9 - 9.1, 9.2
Director of Photography / Camera Operator
Filmography
| | |
| --- | --- |
| | A delightful observational documentary about the making of a number seven boomerang by four senior traditional men from Yuelamu, west of Alice Springs in central Australia... |
| | As the sun sets over Lila Creek, south of Alice Springs, Max Stuart watches the young men of his family prepare their camp and cook kangaroo the traditional way... |
| | Sammy Butcher is renowned as one of the best guitarists in central Australia and one of the leading figures in the Indigenous music scene... |
| | Presented by Aaron Pedersen, six Indigenous sports stars - Nova Peris, Mark Ella, Kyah Simon, Phil Krakouer, Des Abbott and Anthony Mundine – talk about their experiences, achievements and challenges on the track, in the ring, on the sports field – and in life... |
| | "AN EMOTIONAL KNOCK-OUT OF A FILM … a striking documentary … entertaining and enlightening … knocking the Who Do You Think You Are? concept out of the ring... |