SUNSET TO SUNRISE [from the CAAMA Collection]
Year: 2006
Classification: Exempt - Ronin Recommends: G
Runtime: 24 min
Directed By: Allan Collins
Produced By: Trisha Morton-Thomas
Language: Arrernte & English language [English subtitles]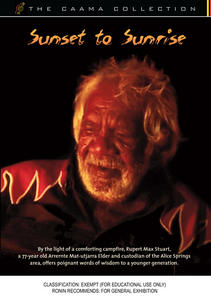 price includes GST and postage

By the light of a comforting campfire, Rupert Max Stuart, a 77-year old Arrernte Mat-utjarra Elder and a custodian of the Alice Springs area, offers poignant words of wisdom to a younger generation.
As the sun sets over Lila Creek, south of Alice Springs, Max Stuart watches the young men of his family prepare their camp and cook kangaroo the traditional way.
Throughout the night, Max passes on words of wisdom to his companions: sometimes they are sharp criticisms of his own people and dependence on alcohol and hand-outs, sometimes they are angry comments on the "kidnapping" of children by white authorities, and sometimes warm nostalgic reflections on traditional culture and sense of community.
SUNSET TO SUNRISE is set in the beautiful location of a dry river-bed camp, where the light gradually changes as the sun sets and the firelight reflects on the tall, elegant white gums. The young men sit with Max around the fire and listen intently to his precious words.
The audience is privileged to be included in this very private and intimate setting as if they, too, were sitting by the campfire and drawn into Max's engaging and insightful monologue.
Now in his twilight years, Max feels comfortable to tell it like it is and not hold back his true feelings. He has lived a long and colourful life and now feels it is his right to speak his mind and share the lessons he has learned.
The film screened at the 2007 Melbourne Film Festival.
---
Director / photographer - ALLAN COLLINS acs
Editor - DENA CURTIS
Sound recording - DAVID TRANTER
Music composed & played by SWAINSON RIO and STEVEN TRANTER
Unit manager - PETER YATES
Executive producer - RACHEL CLEMENTS
Production co-ordinator - TRISHA MORTON-THOMAS