Trisha Morton-Thomas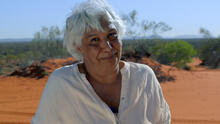 Born in the Northern Territory, Trisha Morton-Thomas is a writer, producer, director and actor who has worked in film and television for over 25 years. She has a background in teaching, radio broadcasting, journalism and theatre. She is an Aboriginal woman from the Anmaterr People in Central Australia.
Trisha has become one of Australia's most renowned Aboriginal actors, recently starring as Lola in 8MMM Aboriginal Radio (2015), the first Aboriginal narrative comedy series which she also wrote and produced. Trish also appears in the award winning Redfern Now and Total Control.
From 2004, Trisha worked for CAAMA where she produced, directed and wrote documentaries for Imparja TV, ABC and NITV including Destiny in Alice, Ridin' Time, Bungalung and Finding Place. In 2007 she joined the newly established National Indigenous Television Services (NITV) as one of the first Aboriginal Commissioning Editors, eventually working her way up to Senior Commissioning Editor. While at NITV, Trisha oversaw hundreds of television hours including documentaries, dramas, music television and magazine style formats.
Trisha wrote, directed, produced and presented Occupation: Native for NITV/SBS, which won the Screen Producers of Australia Award for Best Documentary, an ATOM Award and a Capricornia Award (Darwin International Film Festival). Trisha produced The Song Keepers, a feature documentary which premiered at Melbourne International Film Festival in 2017 and had a strong theatrical release in 2018.
Recent projects include Finke: There and Back, a feature documentary for Madman which was released into cinemas in 2019, and Uluru & the Magician, a feature documentary currently in production. She is also producing Audrey and Me, a feature documentary in production, and MaveriX, a children's television drama series scheduled for production in 2021 for ABC and Netflix. She is in development on a number of feature drama and television drama projects.
See also www.roninfilms.com.au/person/17428/trisha-morton-thomas-with-craig-anderson.html for films made by Trisha Morton-Thomas in collaboration with Craig Anderson.
Filmography
| | |
| --- | --- |
| | In traditional Aboriginal societies, the concept of manhood is very different from the way it is normally viewed in mainstream white society... |
| | Few films have captured rodeo culture with as much energy and honesty as this superb documentary from the CAAMA team. In the heat and excitement of the Mt Isa Rodeo, three teenagers compete as Bull and Saddle Bronc riders... |
| | Around a campfire, on a moonlit night, two Anmatjere Elders, Patsy and Jane Briscoe, sing and re-tell an epic Dreaming story told to them by their father and grandfather... |
| | By the light of a comforting campfire, Rupert Max Stuart, a 77-year old Arrernte Mat-utjarra Elder and a custodian of the Alice Springs area, offers poignant words of wisdom to a younger generation... |
| | WINNER! 2018 ATOM Award for Best Indigenous Video! The Aboriginal story is often buried deep beneath the accepted 250-year Australian historical narrative... |