RYDIN' TIME [from the CAAMA Collection]
Year: 2005
Classification: Exempt - Ronin Recommends: G
Runtime: 22 min
Produced In: Australia
Directed By: Trisha Morton-Thomas
Produced By: Rachel Clements
Language: English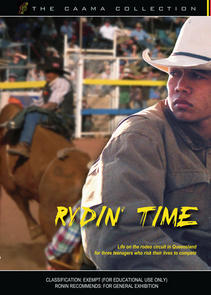 price includes GST and postage

Few films have captured rodeo culture with as much energy and honesty as this superb documentary from the CAAMA team.
In the heat and excitement of the Mt Isa Rodeo, three teenagers compete as Bull and Saddle Bronc riders. Already seasoned as riders, they routinely face their own fears to continue a proud family history of professional competition riding.
John Stacey, 17 at the time of filming, sends a positive message to Indigenous youth about sport and the importance of family and mateship in making a success of the rodeo lifestyle. His parents and uncle are present to coach and support him through the dangers of the sport. John's mates, Dallas McNamara and Kaleb Comollati, just 15 and 16, share his aspiration to compete, to win and eventually to ride professionally, even if that means going to the USA.
This riveting observational documentary, photographed by Warwick Thornton (director of SAMSON AND DELILAH), is rich in rodeo atmosphere, and brilliantly captures the characters of the three boys and the risks they routinely face.
---
Writer/Director - Trisha Morton-Thomas
Photography - Warwick Thornton
Camera Operators - Dena Curtis, Mathew Mackereth, Peter Clarke, Matt Parr
Editor - Dena Curtis
Sound Recordist - Vance Glynn
Production Managers - Rachel Clements, Trisha Morton-Thomas
Series Producer - Rachel Clements
Executive Producer - Jacqui North
---
Follow this link to view a trailer that includes this title and other CAAMA titles: www.youtube.com/watch?v=TnQTe35Fm6o