Rachel Clements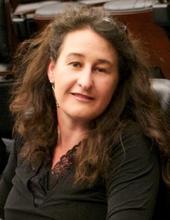 Rachel Clements completed a BA and Post-Graduate Diploma in Business at QUT in Brisbane. She wrote and produced her first short film Flasher in 1996, winning Most Popular Film at the Queensland New Filmmaker Awards. She then moved to London where she worked for Miramax Films and MTV Europe. She returned to Australia to attend the AFTRS and graduated in 2001 with a Master of Arts in Producing; she was the recipient of the inaugural FFC Creative Producer Award. Short drama films produced by Rachel, including Joy by Cate Shortland and Into the Night, directed by Tony Krawitz, won many awards.
From 2004 to 2009, Rachel worked at CAAMA, Australia's largest Indigenous multimedia organisation, undertaking a producer/production manager role for 2 years and the executive producer role for 3 years. Rachel was Executive Producer at CAAMA during the development and production of Warwick Thornton's Samson and Delilah. She produced award-winning shows including children's drama series Double Trouble (Channel 9 and Disney), and numerous television documentaries broadcast in traditional Indigenous languages.
After CAAMA, Rachel produced the award-winning documentaries Ochre and Ink (ABC, 2011) and Big Name No Blanket (ABC, 2013, Sydney Film Festival, nominated for ATOM and Deadly Awards).
Rachel has executive produced documentaries commissioned by ABC and NITV, including Urrpeye (Messenger), NITV's launch documentary.
Still based in Alice Springs, Rachel produced the documentary Blown Away (ABC, 2014), the first Aboriginal narrative comedy series 8MMM Aboriginal Radio (ABC, 2015). Other films include the feature documentary, The Song Keepers, a feature documentary about the Central Australian Aboriginal Women's Choir, premiering at MIFF 2017, and Finke, a feature documentary from inside the iconic Finke Desert Race directed by Dylan River.
In total, Rachel has produced or executive produced over 85 hours of documentary films, short drama films, television drama series, and documentaries for NITV. She has attended markets and festivals with her projects including Cannes, Sundance and MIPCOM. Her films have won awards at festivals including Chicago, Aspen, San Francisco, Houston, Mill Valley and St Tropez, at national awards including AFI, AWGIES, Melbourne and Flickerfest. Film and television projects have been sold to international broadcasters including Channel 4 UK, SVT Sweden, Raisat Italy, and Israel Educational TV.
Filmography
| | |
| --- | --- |
| | The Merrepen palm tree is one of many plants that provide a life source for the people of the Daly River region in the top end of the Northern Territory... |
| | Few films have captured rodeo culture with as much energy and honesty as this superb documentary from the CAAMA team. In the heat and excitement of the Mt Isa Rodeo, three teenagers compete as Bull and Saddle Bronc riders... |
| | The Saint Teresa Church stands proudly in the Aboriginal community of Ltyentye Apurte, a township of 500 people, 80km south-east of Alice Springs... |
| | A delightful observational documentary about the making of a number seven boomerang by four senior traditional men from Yuelamu, west of Alice Springs in central Australia... |
| | The annual Finke Desert Race is one of the toughest in the world for cars, bikes and buggies – 500 km across the red desert of central Australia... |
| | Crook Hat and Camphoo are Alyawarr elders, from central Australia, who are concerned about the survival of traditional skills and culture... |
| | Ochre and Ink tells the extraordinary story of artist Zhou Xiaoping and his inspiring 23 year collaboration with Aboriginal artists in the Maningrida area in the heart of Arnhem Land, Northern Territory... |
| | WINNER! 2018 ATOM Award for Best Indigenous Video! The Aboriginal story is often buried deep beneath the accepted 250-year Australian historical narrative... |
| | Director's Cut (not abridged for TV, including 3 minutes of previously unseen footage) A powerful examination of the myths and facts of Cyclone Tracy, one of Australia's worst natural disasters which devastated the city of Darwin on Christmas Eve, 1974... |