MERREPEN [from the CAAMA Collection]
Year: 2005
Classification: Exempt - Ronin Recommends: G
Runtime: 23 min
Produced In: Australia
Directed By: Steve McGregor
Produced By: Rachel Clements
Language: Nga-gikurunggurr language, English subtitles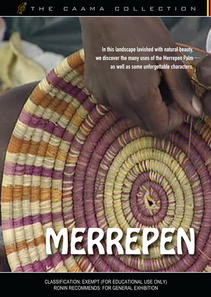 price includes GST and postage

The Merrepen palm tree is one of many plants that provide a life source for the people of the Daly River region in the top end of the Northern Territory. In this landscape lavished with natural beauty, we discover the many uses of the Merrepen Palm as well as some unforgettable characters.
A group of women from the Nauiya community on the Daly River take us into their country to gather the precious Merrepen leaves and berries. With great humour and vitality, they show us how Merrepen leaves are stripped and made into fibre, and how these fibres are dyed into bright colours using the berries, bark, flowers and roots of the Merrepen, the Pandanus and other plants. The dyed fibres are then intricately hand-woven into versatile dilly bags, baskets and mats. Many of the women work together doing their elaborate dying and weaving at the Merrepen Arts Centre in the Nauiya community, and discuss the influence of the missions on their handcrafts.
This beautifully photographed documentary includes striking landscapes of the Daly River area, and is narrated by Marrfurra, a young woman from the Nauiya community. Marrfurra looks into the future of Indigenous arts and culture in the area: "There are not enough elders left. That's why we are painting our stories and making things. That's why I work with the old people. They teach me and my sisters, aunties and cousins about our culture and traditions."
---
Writer & Director - Steve McGregor
Producer - Rachel Clements
Photography - Colin Richards
Editor - James Bradley
Music composed by - Shelly Morris ­and Glen Heald
Sound Recordist - Neville Khan
Narrated & Translated by - Patricia McTaggart [Marrfurra]
Production Managers - Trisha Morton-Thomas and Robyn Regattieri
Executive Producer - Jacqui North