BLOWN AWAY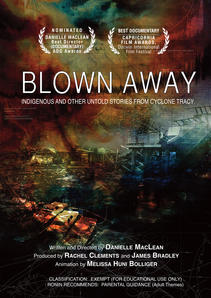 price includes GST and postage

Director's Cut (not abridged for TV, including 3 minutes of previously unseen footage)
A powerful examination of the myths and facts of Cyclone Tracy, one of Australia's worst natural disasters which devastated the city of Darwin on Christmas Eve, 1974. The film especially explores previously unrecorded Indigenous responses to the crisis.
On Christmas Eve 1974, Cyclone Tracy devastated Darwin. It was one of the worst natural disasters to strike Australia, and the subsequent evacuation of most of the city's population was a highly contentious military-style operation that is unparalleled in our history.
Now, over 40 years later, many of the myths about the disaster and its aftermath can be examined, and stories that have gone untold, including those of Aboriginal people, can be revealed.
Is it true that many traditional Aboriginal people left Darwin before the cyclone hit or was this just a convenient rumour that saw authorities dodge their duty of care to Aboriginal people? Were lax building standards responsible for the city's destruction? Was pre-cyclone Darwin a real city or just 'an outpost of Empire at the end of the road'? Did the Mayor really sleep through it all? And at dawn did he really don his pith helmet, pick up his rifle and traverse the ruined city shooting dogs? Did General Alan Stretton really ban New Years Eve? And why has Cyclone Tracy become so ingrained in the Australian national identity?
With flamboyant and legendary characters such as Aunty Kathy Mills, Dr Ella Stack, General Alan Stretton, Mayor Tiger Brennan and Prime Minister Gough Whitlam, Blown Away is a story full of drama and tragedy, heroism and bloody-minded stupidity, told by the people who were there. Their stories are blended with immersive animation, archival material and an evocative original music score.
Best Documentary, Capricornia Film Awards, Darwin International Film Festival.
Nominated – Danielle MacLean, Best director (Documentary), ADG Awards
---
VIEW TRAILER HERE: vimeo.com/324131626
---
MEDIA:
"This is living history. ... deliberately provocative ... vivid and illuminating ... Survivors bring to life the night of the cyclone and the nightmarish weeks that followed. ... Footage of the aftermath is powerful, as is the depiction of a vanishing era." - Stephen Brook, The Australian
"A gripping insight ... an enthralling hour" - TV Week
"A terrific documentary ... thoroughly engaging" - Melinda Houston, Sun-Herald
"Darwin-based animator Melissa Huni Bolliger and her emotive animation, the product of six months' work, brings a dynamic sense of the terrifying nature of the cyclone to the documentary." - Christine Long, Sydney Morning Herald
---
Written and Directed by Danielle MacLean
Produced by Rachel Clements and James Bradley
Director of Photography Tim Alewood
Animation Melissa Huni Bolliger
Composer Caitlin Yeo
Editor James Bradley ASE.
Sound Designer & Mixer Michael Gissing
Sound Recordist David Tranter
Titles & Graphics The Kingdom of Ludd
Screen Australia in association with the Australian Broadcasting Corporation, Screen Territory, Brindle Films & Nirvana Films present a National Documentary Program.
Related files