OCHRE AND INK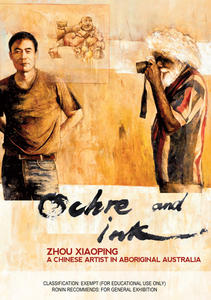 price includes GST and postage

Ochre and Ink tells the extraordinary story of artist Zhou Xiaoping and his inspiring 23 year collaboration with Aboriginal artists in the Maningrida area in the heart of Arnhem Land, Northern Territory.
Trained as a traditional Chinese brush painter in Anhui Province, Xiaoping arrived in Australia in 1988 knowing almost nothing about the country. On a whim, he traveled to the heart of the outback, where he was surprised to see Aboriginal people for the first time. He became fascinated by their art and culture, and they welcomed him into their communities where the artists showed him their techniques of painting with ochre on bark.
Now Xiaoping is visiting the famous artist Johnny Bulunbulun and his family, working on paintings for a major exhibition to be held in Beijing, on the theme of the 300 year trade in Trepang (sea cucumber) from the Aboriginal people of northern Australia via Macassan traders to China.
Johnny is keen to travel to China for the exhibition; but tragically, he dies before he can make the journey. Instead, Johnny's wife and son attend the exhibition opening at the imposing Capital Museum in Beijing and perform an emotional ceremony in his honour.
Later Xiaoping shows his Aboriginal friends some of the fascinating sights of Beijing.
View the trailer here: www.youtube.com/watch?v=airjuPdVwes
---
DVD includes EXTRAS: Making Ochre and Ink [25 mins] and the trailer [2 mins].
---
ATOM AWARD WINNER - Best Documentary Short Form
NOMINATED for Best Documentary - Palace Short Film Festival, Bulgaria
NOMINATED for Best Direction in a Documentary (Stand Alone category), Australian Directors Guild
WINNER! Special Jury Special Recognition Award & Audience Special Recognition Award, 2012 Aspen Shortfest Awards
OFFICIAL SELECTION! Hawaii International Film Festival
OFFICIAL SELECTION! Silent River Film Festival, California
OFFICIAL SELECTION! ânûû-rû âboro Film Festival, New Caledonia
OFFICIAL SELECTION! 2012 Aspen Shortsfest, Colorado
WINNER! Special Jury Prize, 2012 FIFO (Pacific International Documentary Film Festival), Tahiti
---
"Aesthetically fabulous, humanely wonderful and artistically captivating" ... follow this link to read complete FIFO review - en.fifo-tahiti.com/2012/02/ochre-ink-sino-aboriginal-blend-in-arnhem-land/
---
Related files