ELECTRIC SHADOWS: The Story of a Cinema
Year: 2009
Classification: Exempt - Ronin Recommends: G
Runtime: 50 min
Produced In: Australia
Directed By: Andrew Scarano, Phil Hignett
Produced By: Harriet Pike, Andrew Pike
Language: English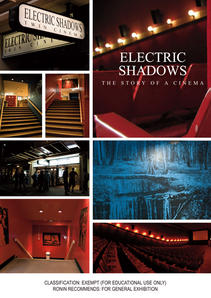 price includes GST and postage

For 27 years, Electric Shadows served as an independent cinema in Canberra, running high quality films for discerning audiences. From its first screening in 1979 of the Monty Python documentary PLEASURE AT HER MAJESTY'S, to its last screening in 2006 of Almodovar's latest melodrama VOLVER, Electric Shadows was known for its quirky programming style and its informal atmosphere.
With the rise of multiplex cinemas around Canberra, competition for films and for audiences escalated, and to compete with the multinationals, Electric Shadows increasingly became a local community cinema, showing the work of Canberra filmmakers, hosting Q&A screenings with visiting filmmakers, and programming a wide range of community-based festivals.
Throughout its life, the cinema was operated by the independent distributor, Ronin Films and had the hands-on involvement of Ronin's director, Andrew Pike. The story of the cinema is told both by Andrew Pike and by the cinema's staff – its managers, front-of-house staff and projectionists. A selection of the cinema's patrons also record their memories.
The cinema's final days are documented by filmmakers Andrew Scarano and Phil Hignett as a loving testament to a passing era, not only in Canberra's cultural history, but in Australian cinema generally: Electric Shadows is not alone, and cinemas like it are closing all around Australia. The film delicately weaves documentary footage of the final screening, the removal of the fixtures and fittings and the sale of memorabilia, interspersed with scenes from a short drama about the closing of the cinema.
VIEW TRAILER HERE: vimeo.com/647083049