FIRST MISSION
Year: 1999
Classification: Exempt - Ronin Recommends: PG
Runtime: 54 min
Produced In: Australia
Directed By: Paul Roy
Produced By: Paul Roy
Language: English dialogue and narration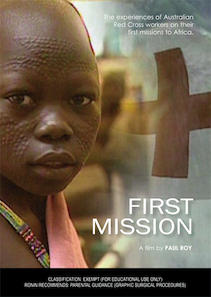 price includes GST and postage

After his award-winning film, A DYING SHAME (available from Ronin Films), about health services in a remote community in the Northern Territory, filmmaker Paul Roy continued to focus on the frontiers of the supply of medical services. In this extraordinary film, he follows the confronting experiences of three young medical practitioners who volunteer to go on Australian Red Cross missions to Africa.
After basic training in Melbourne, Mona Girgis travels to a refugee camp in Western Tanzania. The Lugufu camp is temporary home to 40,000 people seeking refuge from fighting in the neighbouring Congo Republic. She learns to cope with the frustrations and dangers of the work – security problems, difficulties of dealing with inexperienced staff and inadequate resources, exacerbated by language problems.
Dr Aled Williams, an Emergency Medicine Consultant, and Dr Prue Keith, an orthopaedic surgeon, are posted to a Red Cross hospital at Lokichokio in northern Kenya, near the Sudanese border. Every day men who are severely wounded in the Sudanese war, arrive by Red Cross planes or by road vehicles. Their numbers are swollen by women and children who have medical conditions needing urgent attention. The 500-bed hospital is constantly operating at capacity. Both Aled and Prue are confronted by the need to improvise with unfamiliar resources and unfamiliar services, in the face of medical and security difficulties.
All three experiences are observed at intervals during the course of the delegates' 6 month contracts, from their first impressions, their on-going challenges, to their final resolve to re-engage. The film is a remarkable insight into the work of the Australian Red Cross, on the ground in Africa, in situations of acute emergency and difficulty.