WILD HONEY: CARING FOR BEES IN A DIVIDED LAND
Year: 2019
Classification: Exempt - Ronin Recommends: G
Runtime: 30 min
Produced In: Australia
Directed By: Lisa Palmer
Produced By: Lisa Palmer
Language: English and Tetun Terik (with English subtitles)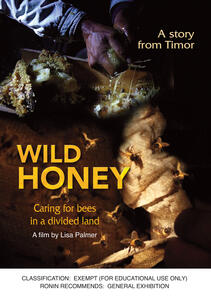 price includes GST and postage

Official Selection, Dili International Film Festival, 2019.
Official Selection, 14th Bali International Film Festival (Balinale), 2021.
For more than a century, the island of Timor has been divided by a colonial border. This border has displaced and separated the people of Lookeu, dividing their land, water and history. Timor's migratory wild honey bees challenge this division. Their migrations are essential to the agricultural and spiritual wellbeing of the people and places who depend upon them.
In community honey harvest rituals, queen bees are courted in ceremony by men who climb high into the canopy to sing nocturnal forest love songs. These songs express gratitude to the bees, enticing and imploring them to give up their sweetness and maintain their seasonal visits.
This film is the outcome of a long-term collaboration between researchers Balthasar Kehi and Lisa Palmer and the people of Balthasar's homeland of Lookeu. It portrays a border community who, despite changing farming practices and increasing commodification, are determined to maintain the bees' movement across the region and preserve their shared identity.
Director and photographer Lisa Palmer
With thanks and respect to the community of Lookeu
Produced with support from the Australian Research Council, the University of Melbourne and RMIT.
VIEW TRAILER HERE: vimeo.com/361717591
---
Extract from the Filmmaker's Statement:
(For the full statement scroll down to a link to a downloadable PDF)
"... Although these types of honey harvest ceremonies were once carried out right across island Timor, it is now only in the most remote and mountainous areas that the practices continue. In Lookeu, as people continue their acts of care for bees moving across borders, the lived reality of division is also at the centre of their story. Wars and violent displacement of people since the imposed colonial division in 1859, deforestation, changes in land use and crop composition are rapidly changing the island landscape, and its attractiveness and carrying capacity for bees. Ironically, the suffering and displacement experienced by the Lookeu community along both sides of a remote and once dangerous mountain border has also kept others out and allowed the survival of the relatively intact forests which are so essential for their continued relations with wild honey bees.
"What I learnt through the filming process was the vital importance of these wild honey harvest rituals to the maintenance of the bees' movement across the region and to people's desire to preserve their shared identity.
"The making of this film was and remains a collective endeavour. Each time it is shown to audiences, both Timorese and foreign, new and often unexpected conversations open-up —about bees and people, borders and relationships. Wild Honey: Caring for bees in a divided land now has a life of its own."
- Lisa Palmer, 2019
---
Related files