YEAR OF THE DOGS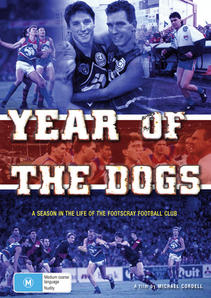 price includes GST and postage

When the film was completed in 1997, the "mighty" Bulldogs hadn't won a premiership since 1954. The Club was close to broke and the threat of amalgamation hung over them. Footscray sees it as the big end of town versus the little end of town. But the people of the western suburbs remain passionate about their footy club. It's the heart and soul of the west. The film follows the 1996 season: it is the centenary year of the AFL and the whole of Victoria and the allied states are celebrating the meaning and tradition of Aussie Rules.
YEAR OF THE DOGS focuses on many key players, both on and off the field. Among them is Tony Liberatore, "Libber", the shortest player in the AFL, but the toughest tackler. His career has been a textbook case of fighting against the odds and it is no different this year. Libber is getting old and his tenure in the team is shaky. Danny Southern, a good-natured soul with a somewhat frightening hairstyle, is plagued by injuries. Meanwhile Shaun Baxter, the youngest player in the team, has a far greater battle to fight. At the beginning of the season he discovers he has a rare form of cancer. His personal battle mirrors the fate of the club. On the sidelines are two passionate Footscray fans Pat and Jenny Hodgson, mother and daughter. It is through their heartfelt commitment to the club and "their boys" that outsiders can experience the emotions that motivate all true sport fans. No matter how the team performs the faithful will not desert the Bulldogs. But this time, maybe this time, the red, white and blue will triumph. And the west will have its day. GO DOGS!
"Sensational ... a brilliant study of male hysteria. One of the best documentaries ever made in this country. You don't have to be even remotely interested in football to find this film utterly absorbing and insightful." - Bob Connolly, director of 'Rats in the Ranks'.
"Full of startling moments and high drama." - Paul Byrnes, Sydney Film Festival Programme.
Related files