FIRST CITIZEN: ALBERT NAMATJIRA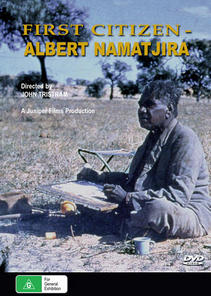 price includes GST and postage

FIRST CITIZEN: ALBERT NAMATJIRA explores the great talent which enabled the Aranda Aboriginal to become the first to adopt the painting techniques and modes of expression of culture which were in direct contrast to his own. Namatjira's life is an expression of Australia's faltering response and awareness of Aboriginal culture and the diametrically opposed Western values of art, law and morality.
The story of Namatjira is one of extreme contrast and paradox. More than almost any other well-known Australian, his life and stature as an artist reflect the changing attitudes of Australian society in the 20th century. During his lifetime (1902-1959) he was a pivotal figure in some of the dramatic changes wrought between Aboriginal and non-Aboriginal people.
The film has live footage and a collection of re-creations of periods of Namatjira's life, newsreel excerpts and archival footage. It details a number of his paintings. Interviews with Clifford Possum Tjapaltjarri reveal he painted with Namatjira at a very early stage at Glen Helen. Sir William Dargie relates a personal account of the time when Namatjira sat for the Archibald Prize-winning portrait. The film offers a sensitive, detailed record and analysis of Albert Namatjira.