INTERVENTION 2 years on [from the CAAMA Collection]
Year: 2010
Classification: Exempt - Ronin Recommends: G
Runtime: 22 min
Produced In: Australia
Directed By: Steve McGregor
Language: Alyawarra language [English subtitles]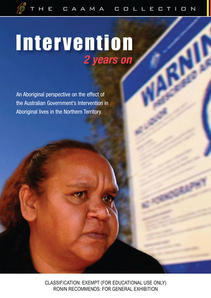 price includes GST and postage

This impassioned documentary was rejected for broadcast by ABC TV as "biased" and lacking "balance".
John Howard introduced the Intervention legislation in July 2007. Two years later, an official United Nations rapporteur on human rights, Professor James Anaya, described the policy as an "extraordinary measure which infringes on the rights and determinations of Indigenous People".
In this film, two Aboriginal spokespersons – Barbara Shaw from the Mount Nancy Town Camp, Alice Springs, and Richard Downs from the Alyawarr Nation – give their views on the effect of the legislation over its first two years of operation. Their stories are accompanied by archival footage and news broadcasts of key moments in the history of the Intervention.
Richard Downs speaks especially of the shame and humiliation that came with Howard's unsupported allegations of child abuse in Aboriginal communities, and of the disillusionment that came with the Rudd government's continuation of Howard's policies.
Barbara Shaw talks eloquently of the insult to the elders of Aboriginal communities who had fought for progress and basic human rights.
The failure of the Intervention to improve housing and basic services, to reduce over-crowding and to minimize the influx of people from remote communities into Alice Springs, have become the focus of protests against the legislation. Richard Downs calls for compassion and consultation, the abandonment of the legislation, and a fresh start in planning development in Aboriginal communities in the Northern Territory.
---
Director - STEVEN McGREGOR
Photography - CURTIS MARRIOTT and WARWICK THORNTON
Editor - RISHI SHUKLA
Sound recordists - DAVID TRANTER and ROBYN NARDOO
Music - SAMANTHA FONTI
Production Manager - TANYA FRASER
Executive producers - ROBYN NARDOO and RAY LILLIS
A CAAMA Production for Imparja TV, in the Nganampa Anwernekenhe series.
---
Follow this link to view a trailer that includes this title and other CAAMA titles: www.youtube.com/watch?v=TnQTe35Fm6o