MEMORIES OF IWANY [from the CAAMA Collection]
Year: 2004
Classification: Exempt - Ronin Recommends: PG
Runtime: 28 min
Produced In: Australia
Directed By: Mitch Torres
Produced By: Mitch Torres
Language: Bardi language [English subtitles]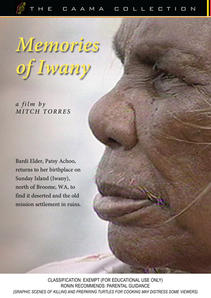 price includes GST and postage

WARNING: This film contains graphic scenes of killing and preparing turtles for cooking that may distress some viewers.
---
It has been 30 years since Patsy Achoo has seen the island where she was born and where she grew up. Sunday Island (or Iwany) is the largest of a number of low rocky, scrubby islands off One Arm Point, north of Broome in Western Australia.
What was once a thriving community, centred on a mission settlement, is now abandoned and overgrown. Patsy re-lives many poignant moments as she wanders through the ruins and the places where once she and her people camped, fished and gardened.
Traveling to the island with family members, she over-sees fishing and the capture of turtles to feed the party, and feels re-united with her past.
"I have seen Patsy Achoo turn her considerable story-telling talents and cultural knowledge to many projects: 'Corrugation Road' – Jimmy Chi's musical; teaching Bardi language in the Broome Primary School; and being spokesperson for women's law and culture in the West Kimberleys. ... In this portrait of Patsy, I wanted to show her as she traveled back to her home and the many inner aspects that the journey would reveal for her. ... I wanted to somehow show that even though her memories were very different from what is left today of her home, the traditions continue. I did this by filming the turtle catch. It somehow summed up her feeling of happiness that some things do continue and never really change."
– Mitch Torres, director
---
Director - Mitch Torres
Photography - Paul Bell
Editor - Paul Bell
Sound - Michael Manolis
Production Manager - Sonette Johnson
Production Co-ordinator - Robyn Nardoo
Executive Producer - Priscilla Collins