WONDER BOY
Year: 2001
Classification: Exempt - Ronin Recommends: PG
Runtime: 56 min
Produced In: Australia
Directed By: Andrew Wiseman
Produced By: Andrew Wiseman, Richard Keddie
Language: English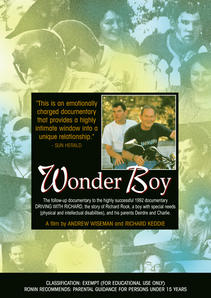 price includes GST and postage

Since the last film, DRIVING WITH RICHARD, there have been significant changes in Richard's life: Deirdre and Charlie have separated, Richard has finished school and Charlie is now his principal carer.
An intimate portrayal of family life, a family challenged with the complexity of supporting and nurturing a child with special needs who is moving into adulthood, WONDER BOY reveals how these three people are coping with enormous change.
Filmed over the course of an entire year and lacing home movie footage shot over a twenty year period with scenes from the previous documentary, WONDER BOY explores how relationships of all sorts can expand and contract and how some people must deal with daily pressures unimaginable to most of us.
Whilst devoted to Richard, Deirdre has struggled to cope with his strength and sometimes difficult behaviour. A devoted and loving mother, she now sees much less of him, and is freer to participate in other areas of life.
Charlie speaks candidly and openly about the grief and denial he experienced with Richard's birth, and explores his marriage and its demise with Deirdre.
For Richard, ritual and routine are the keys to his happiness. We see Charlie rising early in order to bathe with Richard and shave him. We travel with them on motor bike journeys and accompany them on a camping trip across the Nullabor.
Like DRIVING WITH RICHARD, WONDER BOY documents not just the battles and hardship but also reveals times of peace and affection and the celebration of victory.
"This is an emotionally charged documentary that provides a highly intimate window into a unique relationship." - Sun Herald.
---
The earlier film, DRIVING WITH RICHARD and the follow up film, ON RICHARD'S SIDE are also available from Ronin Films:
DRIVING WITH RICHARD - www.roninfilms.com.au/video/10855/0/469.html
ON RICHARD'S SIDE - www.roninfilms.com.au/video/10855/20/13704.html
---
Follow this link to view a trailer that includes this title as well as other disability titles: www.youtube.com/watch?v=SC2I0-VQcJQ
---