RAOUL WALLENBERG: Between The Lines
Year: 1985
Classification: Exempt - Ronin Recommends: PG
Runtime: 86 min
Produced In: Australia
Directed By: Karin Altmann
Produced By: Bob Weis
Language: English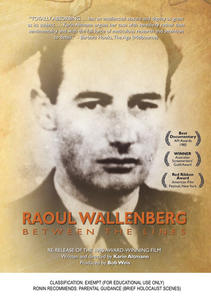 price includes GST and postage

Raoul Wallenberg was an unlikely hero. A Swedish diplomat, he risked his life to challenge the Nazi forces in Hungary and to save the lives of as many as 100,000 Jews in Budapest in 1944.
The Nazis, led by the notorious Albert Eichmann, had already stripped the Hungarian countryside of its Jews by the time Wallenberg arrived in Budapest. Sent by the American War Refugee Board, he knew that Budapest's Jews were destined for Auschwitz unless he could intervene.
Wallenberg devised a system of "schutzpasses", that allowed Jews to claim they were Swedish, neutral, citizens. These "passes" had no legal validity, but looked real enough to convince the Nazis and their local Fascist allies, the Arrow Cross. Wallenberg issued huge numbers of these passes to save the lives of Jews. Time after time he openly defied German guns to distribute the passes personally to rescue Jews as they were being loaded on to trains bound for Auschwitz.
Early in 1945, when the Russians entered Hungary, Wallenberg was picked up by the Russians and disappeared. His fate became a mystery that remains unresolved to this day. In 1981 his work in saving Jewish lives was recognised by the US government and he was made an Honorary Citizen of the USA. In 2013, he was made an Honorary Citizen of Australia.
This award-winning film is a tightly constructed history documentary, a model of its kind, intelligently and sensitively narrated by the filmmaker, Karin Altmann. It incorporates a wealth of archival material – much of it never seen publicly before - and reveals historical and political connections never previously made.
---
"TOTALLY ABSORBING ... has an intellectual stature and dignity as great as its subject. ... Karin Altmann argues her case with sensitivity rather than sentimentality and with the full force of meticulous research and attention to detail." - Barbara Hooks, The Age (Melbourne)
---
Winner! Best Documentary - 1985 AFI Awards
Winner! Red Ribbon Awards - American Film Festival, New York
Winner! Australian Writers' Guild Award