GEOFFREY RUSH: The Imp, the Spirit, the Hero - playing David Helfgott in SHINE
Year: 2016
Classification: Exempt - Ronin Recommends: G
Runtime: 28 min
Produced In: Australia
Directed By: Andrew Pike
Produced By: Andrew Pike
Language: English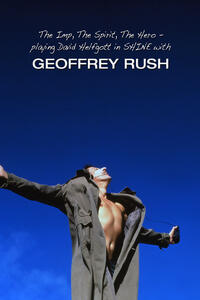 price includes GST and postage

Prior to the production of SHINE in 1996, Geoffrey Rush was a renowned theatre actor in Australia but had had little involvement in film. SHINE transformed his career, especially when he won the Oscar for Best Actor against a highly competitive field of contenders. In this delightful short film, made for the 20th anniversary of the release of SHINE, Geoffrey Rush reveals himself to be an amusing commentator and story-teller, recalling the long years of the film's development and financing. He also recalls working with the film's unpredictable subject, David Helfgott, and filming scenes with Sir John Gielgud in London (later deleted from the film). He also reflects on the role of the film in his professional life.
It is one of three short films documenting the making of SHINE – see also DAVID HIRSCHFELDER: Drawing the Audience In, and SCOTT HICKS: Sculpting the Movie.
Each film is built around an informal interview conducted by film historian Andrew Pike (also the original theatrical distributor of SHINE through his company, Ronin Films), and is illustrated with archival photographs and clips from SHINE itself.
The films were produced by Momentum Films, the company behind SHINE, and were directed by Andrew Pike, photographed by James Arneman, Mike Kenneally and Stuart Mannion, and edited by James Lane.
VIEW TRAILER HERE: vimeo.com/376305372