PUMPHEAD
Year: 2020
Classification: Exempt - Ronin Recommends: PG
Runtime: 74 min
Produced In: Australia
Directed By: Andrew Pike
Produced By: Andrew Pike
Language: English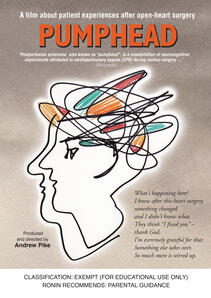 price includes GST and postage

AVAILABLE NOW ON DVD! All-Region, PAL or NTSC versions available - with optional English subtitles for anyone who has trouble with Aussie accents.
DVDs now include HANDLING THE HEART (27 mins) on the same DVD.
The short film, HANDLING THE HEART, can also be viewed on Vimeo-0n-Demand: vimeo.com/ondemand/handlingtheheart
Pumphead is a documentary feature film exploring patient experiences following major heart surgery - how to understand these experiences and how to live with them.
Through the stories of eight ex-patients, including the filmmaker himself, this documentary indicates the complex diversity of emotional and cognitive changes that often occur after open-heart surgery, simultaneous with physical recovery. In particular the film focuses on the phenomenon of "post-traumatic growth" which often co-exists with psychological challenges and is triggered by them.
All of the ex-patients in the film reveal aspects of "post-traumatic growth" - marked changes in personal values and priorities, life-style, creativity, and social and family relationships, leading to a life that in many cases is profoundly different from the time before surgery.
Through this composite story of existential crises and transformative experiences, the film also delves into the gulf that can exist between advances in medical science on one hand, and patient experiences on the other. In particular, the film raises the difficulties that the medical establishment often faces in responding to problems that are emotional, intangible and hard to quantify. As one patient contemplates in the film, the "roller-coaster ride" that some patients experience after open-heart surgery is "invisible" to other people. The film is designed to make the "invisible" more apparent and to promote awareness, empathy and understanding.
The filmmaker, Dr Andrew Pike, is an award-winning documentary filmmaker who had open-heart surgery in 2011.
VIEW TRAILER HERE: vimeo.com/493565269
Producer, director, writer Andrew Pike
Editor James Lane
Cinematographer Zhenshi van der Klooster
Sound Design - Tim Duck
Music by Sergei Rachmaninoff, performed by Chris Latham, Edward Neeman, David Pereira.
Produced with assistance from the ACT Screen Arts Fund through Screen Canberra and the ACT Government.
Produced with the support of Screen Australia's Producer Equity Program.
Financed with the assistance of Documentary Australia Foundation.
WINNER OF THE DEVELOPMENT AWARD IN THE PITCHING "GRAND SLAM" AT THE STRONGER THAN FICTION DOCUMENTARY FILM FESTIVAL.
OFFICIAL SELECTION! This is My Brave International Mental Health Film Festival, October 2021! For details see: www.thisismybraveaustralia.com/cmhff
---
FEEDBACK
"I was thoroughly impressed. What an admirable project and a splendid result! I found it intellectually illuminating and profoundly moving. A real achievement. All the interviewees, and their accounts, were supremely interesting. The cinematography was also superb and the editing extremely effective. All in all, first rate. My warmest congratulations for a great achievement."
- Dr Gino Moliterno, film scholar and educator, Australian National University
"Your film is - among other things - a revelation, at least to me. I was totally unaware of these post-open heart surgery effects. But they make perfect sense; as one of your interviewees, Alan Coop, says, 'during the procedure, you are dead and you're not meant to come back from that.' ... The way you build toward the 'positive' is the real strength of it. ... I hope the film gets into med schools and colleges of nursing. Interesting that the phenomenon you show is already known, and there are even programs to deal with it - but so many medicos don't want to know."
- Michael Brindley, screenwriter
"I was so impressed with your film, 'Pumphead': the way it introduced the subject and developed it through so many avenues and aspects. It fills the missing link between research and patients. It was also a pleasure to watch as a visual experience – the photography was marvellous. I am sure there would be people in the cardiac rehab world in Sweden who would be very interested in it. .... I have friends who have been through open heart surgery and have had some of the post-op problems described in the film. 'If they only had known and had received the right help' was the thought going through my mind as I watched the film."
- Julie Vidal, Sweden
"The Australian Centre for Heart Health is proud to have contributed to the film and sponsored its first public showing at the Australian Cardiovascular Health and Rehabilitation Association Annual Scientific Meeting, held online in August 2020. A third of the health professionals who evaluated the conference rated the film as the best session of the conference."
- ACHH Newsletter, September 2020
"A profound look at the effects of open heart surgery on patients and their families. Both emotional and factual in nature it manages to balance the essence of the human spirit and the science and medicine behind our conditions. An absolute masterpiece. Please support this amazing little film and be amazed at the incredible people that make it what it is. I am blessed and privileged to have contributed even a small amount to this groundbreaking CHD documentary "
- Jessica Caudwell, participant in Pumphead
"A wonderful work about a particular thing, but all at once universal. I forgot i was watching a film about a condition related to surgery but imagined these people as everyman/woman, as if living in the world was like having your rib cage cracked open to expose your heart... and the species is in a state of abiding trauma that informs our being, making your film a kind of allegory. Thanks Andrew: a lovely film."
- Frank Rijavec, filmmaker
"This personal and absorbing documentary takes us beyond the reassuring world of biomedicine, revealing how the trauma of major heart surgery can have profound and unexpected effects on a person's thoughts and feelings. Exploring this phenomenon for the first time, the film follows the lives of several patients who have come to terms with it and, in the process, discovered new possibilities in themselves for recovery and personal growth. Although the film deals with complex medical and mental processes, it speaks to a general audience without unnecessary jargon or specialist language."
- David and Judith MacDougall, filmmakers
"This beautifully crafted investigative documentary observes and explores lesser known aspects of what happens to the psychological, emotional and social identify of people - young and not so young - who have had their chests opened and their insides adjusted. ... Anyone interested in health and how to live will benefit by gaining improved insight and understanding from this film."
- Dr Michael Kindler, educator
"It is a brilliant, supremely useful film. It is really what I always like – the walking 'wounded' helping other fellow 'wounded' – the sufferers, not the doctors, experts. It lives up to your sub-title about it being "patient experiences" and you have accumulated many great fellows on the same journey as yourself. I also really loved the positiveness of the film. The immensity of the human spirit to overcome, recover, accept and become empowered to move on in a new direction. It has obviously been cathartic for you, but the turning of what for many could be a negative experience they never rise from, to a complete change of approach to life, and I am so glad that the film provided that vehicle for your own personal recovery."
- Dr Ross Cooper, historian, educator, artist
"A profoundly compassionate film ... An authentic empathy is created throughout, not just in relation to the subject matter but also with those who are interviewed. ... I think there are broad implications throughout the film and not just related to pumphead syndrome. I was particularly intrigued by the many ways that post-traumatic growth was manifested. ... It is such an eye-opener and such an empowering film – former patients claiming the language and the experience for themselves. I was touched by the imagery throughout, but I think my favourite image was Barbara Murphy's necklace – that silver anchor. I am sure that you have created an affirming and safe harbour for many with this film, Andrew. I hope that the film reaches many throughout the world."
- Dr Adele Chynoweth, OAM, historian and filmmaker
"A beautifully crafted film exploring a much-needed topic. The interview subjects, the evocative outdoor environments, and the judicious use of the beautiful Rachmaninoff music were very moving. It was a revelation to see the creative growth of the people after their traumatic event."
- Lucille Carra, filmmaker (New York)
---
'Postperfusion syndrome, also known as "pumphead", is a constellation of neurocognitive impairments attributed to cardiopulmonary bypass (CPB) during cardiac surgery ...' - Wikipedia
---
If this film raises issues for you, help and support are available. Don't struggle alone. Please contact:
The Australian Centre for Heart Health's Cardiac Wellbeing Program on 03 9326 8544 or by email at
Or contact Lifeline on 13 11 14.
---
Related files
Images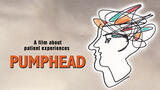 Artwork panel for social media
download high-res

Poster artwork
download high-res