NOTHING RHYMES WITH NGAPARTJI
Year: 2010
Classification: Exempt - Ronin Recommends: G
Runtime: 56 min
Produced In: Australia
Directed By: Suzy Bates
Produced By: Alex Kelly, Michael Watts, Shannon Owen
Language: English
Website: www.ngapartji.org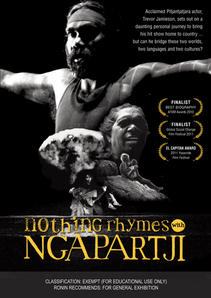 price includes GST and postage

Ngapartji ngapartji: I give you something, you give me something.
Nothing Rhymes with Ngapartji follows the journey of acclaimed Pitjantjatjara actor, Trevor Jamieson, as he returns to his traditional country to perform his hit stage show Ngapartji Ngapartji to an all-Indigenous audience in the remote Australian Aboriginal community of Ernabella, South Australia.
Trevor has struggled to hold on to his language and culture while living away from his traditional country. Ngapartji Ngapartji is a live theatre performance in two languages; its audiences are usually fluent in English rather than Pitjantjatjara. 2,500 kilometres from the recent five-week, sell-out Sydney Festival season, against the magnificent backdrop of the Central Australian desert, Trevor is preparing to face his toughest audience yet.
The film follows the Ngapartji Ngapartji team's journey to Ernabella and the in situ performance of their acclaimed show. It is terrible timing for Trevor, whose father, a central character in the stage show, passed away only weeks before. Not only does Trevor have to confront his grief in order to deliver the performance, he also has to grapple with the decision to risk breaking traditional law by saying his father's name, acting the part of him, and showing footage of him as part of the show. Is Trevor going to get a knock on the head?
Trevor's family story is one of struggle and survival. From the 1950s, Trevor's grandfather witnessed British atomic testing spread sickness throughout his land; the performance follows three generations of an Aboriginal family as they grapple with becoming refugees in their own country.
Elders in Ernabella have their own memories of the Maralinga bombs, and Trevor knows that the Ngapartji Ngapartji show will be a potent reminder of an issue that people have not talked about in a long time.
As excitement builds in the community and among the company, which is thrilled to be performing for an Indigenous audience in Ernabella, trepidation builds in Trevor as he becomes more fearful of the consequences of telling a story so close to his heart.
­­
---
Awards:
Finalist - Best biography, ATOM Awards 2010
Finalist - Global Social Change Film Festival 2011
El Capitan Award - 2011 Yosemite Film Festival
Screenings:
This is Not Art Festival (Newcastle, Australia)
Yosemite Arts Festival (USA)
Radar International Documentary Film Festival (Germany)
International Film Festival (Ireland)
Docs Campus (NZ)
Global Social Change Film Festival (Indonesia)
­­
---
Featuring: Trevor Jamieson, Pantjiti McKenzie, Amanyi Dora Haggie, Kawaki (Punch) Thompson, Scott Rankin, Gail Yorkshire-Selby, Tjariya Stanley, Makinti Minutjukur and Mel Robertson.
---
Related files