ROBERT FORTUNE - THE TEA THIEF
Year: 2002
Classification: Exempt - Ronin Recommends: G
Runtime: 52 min
Produced In: Australia
Directed By: Diane Perelsztejn
Produced By: Diane Perelsztejn, Willy Perelsztejn
Language: English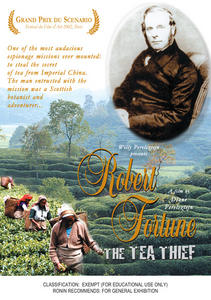 price includes GST and postage

Behind the story of a simple cup of tea is a tale of espionage and intrigue captured in a documentary by Melbourne filmmaker Diane Perelsztein. The cup that cheers has a complex, often dark history. The story of tea is a tale of politics, economics and spirituality, of espionage, art and the drug trade.
This is the story of one of the most audacious espionage missions ever mounted: to steal the secret of tea from Imperial China.
By the mid-1800s, England and Europe had become totally enchanted with a heady new brew: tea. At this time, China resolutely held the world monopoly on the production of tea and its trade around the world. The British Government sought to change that, by mounting an extraordinary mission of industrial espionage: to steal the secret of tea from Imperial China. The man entrusted with the mission was Robert Fortune, a 36-year-old Scottish botanist and adventurer.
This superbly photographed film follows the path of Fortune's clandestine journeys (from 1848 to 1851) as he travelled through China disguised as a mandarin collecting seeds and plants, observing and learning techniques of tea cultivation and processing, to facilitate the transfer of China's secret technology to the control of the British Empire. When he left China for India in 1851, he went with some 20,000 tea plants and 8 Chinese tea-workers to oversee their cultivation in the foothills of the Himalayas.
Fortune was a prolific writer of diaries and reports and, with the help of present-day tea experts and connoisseurs in England and China, the significance of his achievements are re-assessed and the story of his conquest reconstructed with vivid immediacy by filmmaker Diane Perelsztejn.
WINNER! Grand Prix du Scenario Festival du Film d'Art 2002 Paris
VIEW TRAILER HERE: vimeo.com/810855930
Related files