KOTLA WALKS - performing locality
Year: 2006
Classification: Exempt - Ronin Recommends: G
Runtime: 92 min
Produced In: Australia
Directed By: Simon Wilmot
Produced By: Sanjay Srivastava
Language: English subtitles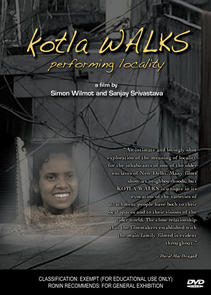 price includes GST and postage

Raman Bhardwaj's family came to Kotla in the wake of the Partition; his wife, Sarita, moved from Nainital after marrying. Raman is concerned about the effects of television on his children, and prefers 'chatting' on the internet, whereas Sarita battles to have the recently disconnected 'cable TV' restored. The Bhardwaj's acquaintances include Jaidev, who is an aspiring musician, Arnima, who wants to be a film-star, and the local policewoman, Satish Bhati, who is as friendly with fellow members of her Gujar community as she is with the local 'Bad Character'.
The film tracks the imagination of the unofficial city forever in the process of breaking the topographic skin of the ' official' city of the Master Plan. It explores the ways in which the texture of urban spaces is woven into ideas of belonging, intimacy, friendship, ambition, and the desire to be ' here' but also somewhere else.
"An intimate and lovingly shot exploration of the meaning of locality for the inhabitants of one of the older enclaves of New Delhi. Many films show us neighbourholds, but KOTLA WALKS is unique in its evocation of the varieties of attachment people have both to their local spaces and to their visions of the wider world. The close relationship that the filmmakers established with the main family filmed is evident throughout" - David MacDougall.