DEMON FAULT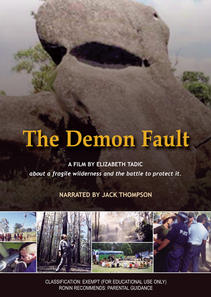 price includes GST and postage

Miners, environmentalists, police, landowners and Aboriginal people come head to head in a deadly serious yet crazy battle over a gold mine, located in a sacred and ecologically sensitive region of Australia's fast-disappearing wilderness.
The Demon Fault delves into the lives of several very different Australians, who find themselves drawn into a deadly serious yet crazy battle over a gold mine.
Prejudices and accusations abound when miners, farmers, environmentalists, police, politicians, and Aboriginal people take their fight from the battlefields of NSW's Great Dividing Range (on the Timbarra plateau above the Demon Fault line) to the law courts of Australia. All kinds of weapons from legal loopholes to dirty tricks get brought into this real-life Australian drama.
Local landowner and Xena-the-Warrior Princess look-a-like Bronwyn Petrie wishes the mine had never come to town. But she didn't always feel that way. She and her husband, Bill, gladly accepted Ross Mining's golden handshake to the townsfolk of Tenterfield, who were desperate for an economic saviour after a devastating drought and the loss of three local industries.
However, Bronwyn wasn't expecting a flood of "greenies" on to her land, where the mine is situated. Among them is Mem Kochan, a "vigilant member of society". Dressed in army camouflage, he leads a crew on a "Black Wallaby" scouting mission, jumping over the Petries' fences in their trek through thick scrub and swamplands for more clues and anti-mine strategies. Fed up, Bronwyn and other landowners take the law into their own hand, and trap them on the mountain.
In the Land and Environment court, one-time rock star-cum-bush lawyer Al Oshlack prosecutes the Petries, the mining company and various government bodies. On behalf of native title claimants, Al sets out to prove the mine is destroying pristine water, habitats of endangered species and sacred Aboriginal sites. Ross Mining's lawyers sue Al as a "vexatious litigant". Their PR claims the company is creating an "environmental benchmark", with "world's best practice and state of the art mining". Mine manager Mike Rosengren shrugs the protesters off as "a bunch of dole bludgers and eco-terrorists".
Downstream leaseholder Peter "Pumpkin" videos every blockade and lodges multiple complaints to the government of mine pollution in Nelson creek, his main water supply. Pete, who escaped to the area to seek peace after a lifetime of deep-sea diving and oil rigging, sighs, "Hell's come chasing me!" In an ironic twist of fate, he and 67 other protesters have an injunction taken out against them. This prevents Pete from going within 10km of the mine site - a condition he breaches by staying at home! The injunctions strip the protesters of their "democratic right to protest". Once their full names and addresses are published in the local paper, it appears Ross Mining has won the battle.
Each character passionately pursues what they most treasure. For some it's gold. For others, it's water. But for everyone, it's "the truth". Armed with video cameras, they all take to videoing the action as proof of "what is really happening".
The battle zone becomes a cinematic event with protesters perched high on tripods in the seemingly endless New England skies. Ross Mining claims it's having no impact on operations yet increases security to an all-time high. The cops swing from taking no action to making multiple arrests, whilst Bronwyn now takes her gun to bed for fear of being attacked in the night.
While some fight on, many protesters abandon the campaign in the hope of finding greener pastures. Paranoia and disillusionment soon spread like wildfire and the campaign is left in tatters. Karen "Kaz" Reilly - once at the helm of the blockade and determined to stop the mine – leaves Timbarra burnt out. She takes up a job with the Australian Taxation Office, saves up enough money so that she may resume her studies in environmental science.
After less than a year, Ross Mining suddenly announces the suspension of operations due to unseasonable rain and ailing gold prices, but then makes a questionable sale of the mine to Delta Gold. Ross Mining had guaranteed five years of employment to the townsfolk, but once the promise was broken, the golden glint in locals' eyes was once again replaced by the harsh reality of country poverty.
In another bizarre twist of fate, great floods hit the North Coast region and the unfathomable occurs – the mine overflows! Its "failsafe" dam of gargantuan proportions spews contaminated water into the nearby waterways. Government departments rush to the site to test the waters. Protesters vow to shut down the mine forever. They plan an Easter 2001 "lock-out" where they will seize control of the site. To "heal the mountain", they will demand the $3 million security bond from the Department of Mineral Resources. Then Delta announces it will close the mine!
The film ends on a positive note with the first-ever final closure of a gold mine in NSW and talk of rehabilitation taking place. But the question remains: how was such a fruitless endeavour in such a unique and sacred part of Australia's fast-disappearing wilderness approved in the first place? Perhaps the answer lies in our insatiable thirst for gold, on which Australia's nationhood was founded. But as these foundations begin to fall apart, will our quest for glittering wealth ultimately lead us into a dirty ditch?
"There's a curse on that gold!" says Aboriginal elder Uncle Eric Walker. "And digging it out makes people go crazy."
Narrated by JACK THOMPSON | Co-producer SELENE ALCOCK | Editor KAREN JOHNSON | Original Score MEM RIVER | Produced & directed by ELIZABETH TADIC.