ANGELS OF WAR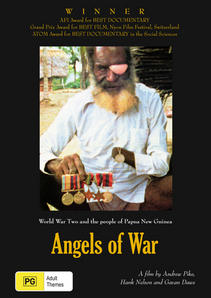 price includes GST and postage

ANGELS OF WAR captures the experiences of villagers who lived through the Papua New Guinea campaign. Caught up in a war they could not understand or influence, they had no choice but to obey whoever held the gun. Their homes were bombed. They starved as refugees in the bush. They were conscripted as carriers. They fought as infantrymen and guerillas. In Japanese-held areas, they were forced to collaborate or risk execution; some were later hanged for treason by the Australians.
"AN EXCELLENT DOCUMENTARY ... puts the New Guinea campaign of World War II into a grim, new perspective." - Sydney Morning Herald.
"ENJOYABLE AS WELL AS VERY MOVING ... the skill of experienced filmmakers are obvious in the strikingly balanced direction, soundtrack, and the film's ability to make a serious subject both revelationary and entertaining." - The Australian.
WINNER! Best Documentary - 1982 Australian Film Institute [AFI] Awards
WINNER! Best Documentary - 1982 Nyon Film Festival, Switzerland
WINNER! Best Documentary in the Social Sciences - ATOM Awards
---
"Angels of War is one of the best documentary films I have ever seen. I have used it for thirty years in my course on World War II at the University of Oregon--and it never fails to produce a lively, impassioned discussion.
"Made by three renowned historians--Gavan Daws, Andrew Pike, and the late Hank Nelson--Angels explores World War II in Papua New Guinea from four distinct angles of vision: the Japanese, who fought a desperate campaign to conquer Port Moresby and thereby threaten the Allies' lifeline to Australia; the Australians and Americans who opposed and ultimately defeated the Japanese; and the Papua New Guineans, who were obliged to interact with and come to terms with the three alien armies. What makes this film special is its portrayal of the Papua New Guineans, who, as the filmmakers emphasize, often played key roles in the conflict, particularly in the service of the Australian forces. As the film also reveals, in the aftermath of the war, many Papua New Guineans who served the Australians felt more than a little resentment and anger toward their former allies because the Australian government failed to reward them sufficiently for their contributions.
"A classic documentary, Angels offers a view of World War II seldom seen in standard narratives of the war. Highly recommended for university-level courses on World War II, Pacific Islands history, and modern World history".
- Glenn Anthony May, Professor of History, University of Oregon
---
Related files
Images

Editing ANGELS OF WAR: in the rear, from left, Hank Nelson, Andrew Pike and Gavan Daws; centre, editor Stewart Young; and front right, historian John Waiko.
download high-res