BLUEY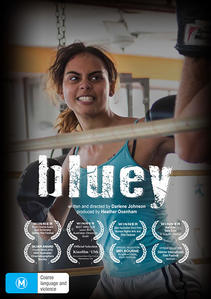 price includes GST and postage

August 2016: BLUEY wins Best Short Film award at the First Peoples Festival, Montreal.The official citation reads (translated from French): "The director looks right into the darkness of a troubled teenage girl's soul, with precise and spare writing that gets to the heart of the matter. The film conveys all the emotional storms of adolescence with pure images where no artifice muffles the impact of the story".
---
This short drama by Darlene Johnson (director of THE REDFERN STORY, CROCODILE DREAMING, GULPILIL: ONE RED BLOOD and STOLEN GENERATIONS) is a moving and powerful portrait of a young woman (played by Tasia Zalar), trapped in a cycle of violence, hopelessness and despair. She meets a mystery mentor who could change everything.
"A searing portrait of one young woman's attempt to reconcile past and present as we walk the tightrope of her self-destructive emotions." - Phillip Noyce.
Tasia Zalar is an outstanding actress who went on to appear as Shevorne in Series 1 and 2 of the ABC outback thriller, MYSTERY ROAD.
---
AWARDS
WINNER! Grand Jury Prize for Best Short Film, First Peoples Festival, Montreal, Canada, 2016
WINNER! Best Short Film, Mexico International Film Festival, 2016
WINNER! Best Director, Noosa International Film Festival, 2016
WINNER! Best Indigenous Film, St Kilda Film Festival
WINNER! Best Short Fiction Film Nominee, 2016 AACTA Awards
WINNER! Event Cinema Award - Best Short Screenplay, Sydney Film Festival, 2015
WINNER! Best Director (short film), Australian Directors Guild
WINNER! Best Australian Short Film, Human Rights Arts and Film Festival
WINNER! Best Actor (for Tasia Zalar), St Kilda Film Festival, 2016
WINNER! Silver Award (for Tristan Milani ACS), NSW Australian Cinematographers Society, 2015
WINNER! Rising Indigenous Talent Award, Dungog Film Festival, 2016
Film Festivals
Official Selection - Kinofilm '13th, International Short Film Festival, Manchester, UK
Official Selection - Melbourne International Film Festival
Official Selection - Odense International Film Festival, Denmark