ANIMATING AEROPLANE JELLY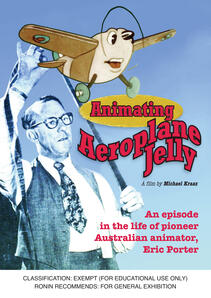 price includes GST and postage

WINNER! BEST DOCUMENTARY, Geek Film Festival, Toronto, Feb 2021.
SPECIAL RECOGNITION AWARD, AniMate Australia Animation Film Festival 2021-2.
An episode in the life of pioneer Australian animator, Eric Porter, and his creation of one of the most iconic and enduring of Australian advertising images.
In the 1930s and 40s, Eric Porter had established himself as an efficient and innovative all-rounder in the Australian film industry, making a living from sponsored work and cinema commercials. He branched out into producing and directing a dramatic feature film, A SON IS BORN (1946) with Peter Finch and Ron Randell, and whenever he could he explored the possibilities of animation. As an animator, he was largely self-taught but there is evidence that he reached out to Disney for advice and received helpful replies.
In 1942, an opportunity arose that changed the course of his career. Through a casual conversation he found himself commissioned to make an animated cinema commercial for local entrepreneurs Bert Appleroth and Albert Lenertz who wanted new and exciting ways to promote their very successful Aeroplane Jelly, a brand of brightly packaged crystals that had attached itself to the current craze for aviation, and was famous for a catchy musical jingle to promote the jelly on radio. For the first time, Porter felt creatively free to develop an animation concept and style, and came up with a two-minute animated commercial called BERTIE THE AEROPLANE. The film was such a success that, like the Aeroplane Jelly song, had a life of its own. It was followed by a second animated commercial, BERTIE THE JET in 1954.
In making these two films, Porter was free to experiment with animation techniques and with colour, and the films led the way for his future work in animation, culminating with an animated feature, MARCO POLO VS THE RED DRAGON in 1972, and in television programs. The films also were a vehicle for Porter's own mischievous sense of humour.
ANIMATING AEROPLANE JELLY celebrates this turning point in Porter's career – a moment which was also a turning point in the history of Australian animation. The films went further to help to embed the Aeroplane Jelly song as an iconic and much loved part of national popular culture, still loved and sung widely 70 years later, just as Bertie the Aeroplane toys are still marketed widely.
The documentary includes interviews with Porter himself, his daughter Gaby Porter, and his animation collaborator, Cam Ford, as well as film historians Ray Edmondson and Andrew Pike. It also includes archival footage of Porter and his studio at work ... and with delightful good humour, at play.
The film is a charming labour of love by animation enthusiast and documentary filmmaker, Michael Kraaz.
The DVD contains the documentary ANIMATING AEROPLANE JELLY (19 mins) plus the two Bertie commercials (total 5 mins)
VIEW TRAILER HERE: vimeo.com/415706450
Directed by Michael Kraaz
Produced by Michael Kraaz and Andrew Pike
Photographed by Michael Kenneally, Zhenshi van der Klooster, Daniel Sanguineti
Edited by James Lane
Sound Mix by Scott Wombey
Technical animations by Brad Schafli
Thanks to McCormick Foods and the Friends of the National Film and Sound Archive
Original "Aeroplane Jelly" song – words and music by Albert Lenertz and Les Wood, sung by Joy King
---
DIRECTOR'S STATEMENT
I have longed to see Eric Porter's story told via documentary. As Porter worked in the film industry, his story lends itself well to a film biography. It's a story I've been aware of since childhood, and I've also been aware there is little reference material available. Working at the National film and Sound Archive I noticed an abundance of Porter's material in the collection. Although Porter's work and achievements are a major component of Australia's film and television history, little attempt has been made to tell his story. Something had to be done. I strongly felt this represents a missed opportunity, and that it is important to re-introduce this great Australian to the public, to serve as inspiration to present and future Australian artists.
I'm interested in exploring why Australians are attracted to those who 'give it a go'. Eric Porter was such an individual. Without proper learning resources, Porter taught himself the art of film animation. In doing so he brought the art of animation in Australia to new heights. As film historian Ray Edmondson has stated: 'Entrepreneurs like Eric are always needed. That's how we have a film industry. People who will stick at it and don't give up. It's blazing a trail in a difficult situation. Especially in animation where you are competing with incredibly slick films from overseas promoted by American companies. You've got to have an aspect that's your own. I guess that always been the story of the Australian film industry. We were always competing against much larger forces. We have to find ways of sticking our heads up and doing our own thing'.
My tenure as an Education Presenter at the National Film and Sound Archive exposed me to much of Porter's work and his personal history. Porter's two Aeroplane Jelly commercials were popular parts of my presentations for school groups and the general public. People where interested in hearing about Eric Porter and his connection to Australia's cinema history. There was many a look of astonishment when I told people of Porter's connection to one of Australia's iconic food products and well-known animation pieces.
When Porter received the Raymond Langford Award in 1982, he revealed his connection with Walt Disney. The Porter-Disney connection has long intrigued me. In researching this project, much of this mysterious connection has been revealed. More of the Porter-Disney link became apparent when I visited Porter's daughter Gaby at her Wombarra sculpture garden. She told me that her father had often contacted Disney for technical advice. It was also enjoyable to interview Eric's colleague Cam Ford and get his insights into pre-digital animation techniques. We discovered how Porter told Cam, over a glass of ale or two, the story of how Disney had revealed technical details that would help him make the Aeroplane Jelly commercials. The relationship was such that Porter received a yearly Christmas card from Disney.
Having access to Eric Porter's company 'goof reel' provided us with amusing visual images to complement the Aeroplane Jelly story, and an insight into the personality of Porter, and the scale of his enterprise.
In making this film and bringing the story to the public's attention, I'm delighted to see people are thrilled to discover that Australia has such an intriguing character as Eric Porter in its history. Hopefully the film will inspire viewers to look into more of Porter's story and discover the joy of studying Australia's cinema history. With the Aeroplane Jelly brand recently celebrating its 90th anniversary, Australians still have a great connection to this product and will be interested in the story of this early advertising campaign.
- Michael Kraaz, May 2020
---
For an interesting interview with Michael Kraaz talking about the film, click here: www.youtube.com/watch?v=fKem3ge1mFE
---