WANDERING SOULS
Year: 2019
Classification: Exempt - Ronin Recommends: PG
Runtime: 75 min
Produced In: Australia
Directed By: Aviva Ziegler
Produced By: Margaret H. Murphy, Aviva Ziegler
Language: English, French and Cambodian (with English subtitles)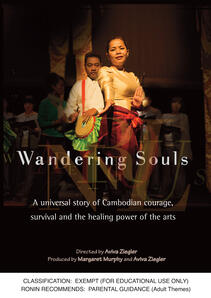 price includes GST and postage

Wandering Souls follows the mounting of a new stage production, Bangsokol: A Requiem for Cambodia, to honour the nearly 2 million Cambodians who died during the Khmer Rouge regime from 1975 to 1979.
Commissioned by Cambodian Living Arts, the Requiem is a first-time collaboration between filmmaker Rithy Panh and composer Dr. Him Sophy. The film tracks the story of the Cambodian creators and musicians, as they work with an international team to bring the production to the world stage. Alongside the evolving stage production, the film tells the first-hand survival stories of the Cambodians involved in the Requiem, and their powerful will to reclaim an artistic heritage that disappeared during the four years of Pol Pot terror.
With a libretto based on Bangsokol, the Khmer Buddhist ritual that brings peace to the dead, Him Sophy's score is a unique combination of traditional Khmer instruments and vocalists, together with Western chamber music and chorus.
Projected throughout the performance onto screens at the back of the stage, is a large triptych created by Rithy Panh. Using archival footage and elements from his personal films, Rithy has created a visual complement to the Requiem, adding to the emotive story of Cambodia's recent past.
VIEW TRAILER HERE: vimeo.com/402078319
Directed by Aviva Ziegler
Produced by Margaret Murphy and Aviva Ziegler
Edited by Andrew Arestides, ASE
Director of Photography Vanna Seang
Related files