WING AND A PRAYER, A
Year: 2000
Classification: Exempt - Ronin Recommends: G
Runtime: 56 min
Produced In: Australia
Directed By: Sarah Barton
Produced By: Catherine Dyson
Language: English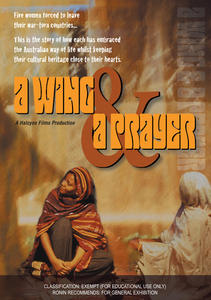 price includes GST and postage

Five women forced to leave their war-torn countries ... This is the story of how each has embraced the Australian way of life whilst keeping their cultural heritage close to their hearts.
As frankincense burns, sending fragrance to the heavens, Shaza entertains a group of women in traditional Somali style.
For Munira, Malyun, Samira, Suban and Shaza, women from Ethiopia, Somalia, Eritrea and Sudan, life has taken some unexpected turns. All have left their countries as conflict in the region simmered, eventually arriving in Australia. Four of the women came together in the Horn of Africa Women's Theatre in Melbourne, where they are seen rehearsing. Through their theatre and their conversation, myths are dispelled and a realisation emerges of the profound complexities of multiculturalism.
"An inspiring film." - Sun-Herald.