Judith MacDougall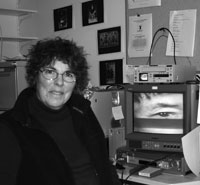 Judith has made more than a dozen documentary films in Africa and Australia, and more recently, working in India and China with digital video. The film DIYA was filmed in India on digital video and continued her interest in developing new strategies to examine the relationship of people to their constructed environment and material culture. Her film, THE ART OF REGRET, filmed in Kunming, China, examines the effect of the Cultural Revolution on current photographic practices and how the digital revolution is changing the way in which photography is used. The film moves from scenes of family albums to large technically advanced studios, and raises questions about the role of photography as a medium of truth and fantasy. She will continue to work with cross-cultural issues, and with the development of strategies for using video as a research tool in fieldwork situations.
She has also taught film and video production courses in the USA, Europe, and China.
GRANTS, AWARDS & FELLOWSHIPS:
2005 Director Spotlight retrospective, Taiwan International Ethnographic Film Festival
2001 Faculties Research Grants Scheme, Australian National University, for "Conceptual Shifts in Indian Photography"
1992 Rockefeller Foundation Intercultural Film/Video Fellowship (USA) for research on a documentary film about tourism
1987 Documentary Film Fellowship, Australian Film Commission.
1984 Film Retrospective, Berlin Film Festival, Internationales Forum des Jungen Films.
1983 Finalist and Judges' Commendation, Greater Union Awards, Sydney Film Festival, for Three Horsemen.
1981 Retrospective of films, Nippon Audio Visual Hall, Tokyo
1980 Honored Film-maker of the 1980 Margaret Mead Film Festival, New York
1980 R.A.I. (Royal Anthropological Institute of Great Britain) Film Prize for The Wedding Camels.
1979 Best Film, Cinéma du Réel Festival, Paris, for Lorang's Way.
1973-75 National Endowment for the Humanities (U.S.A.) grant for ethnographic filming among the Turkana in Kenya. (Co-Director)
1968-69 Committee on International and Comparative Studies (U.C.L.A.-Ford Foundation) grant for ethnographic filming among the Jie of Uganda
1967 Louis B. Mayer film grant, U.C.L.A., for film about Native Americans in Los Angeles
FILMOGRAPHY:
2006 The Art of Regret, for the Centre for Cross-Cultural Research. ANU, Canberra. Examines contemporary
photography in Kunming, China: how the digital revolution has changed it and how the Cultural Revolution affected the way people consider and use photographs.
2001 Diya, Centre For Cross-Cultural Research, ANU, Canberra. Follows the 'life history' of a diya, a small oil lamp, and the lives of the people who make it, sell it, use it, and finally discard it after the festival of Diwali. Shot in Northern India.
56 minutes (Director, cinematographer, editor)
1991 Photo Wallahs, Australian Broadcasting Corporation, Australian Film Commission and La Sept (France). A film about local still photographers and their clients, and the meanings of photography in a hill station in northern India.
58 minutes. (Co-Director)
1986 Sunny and the Dark Horse, Australian Institute of Aboriginal Studies. A sometimes humorous documentary about a family's developing passion for "picnic racing" their horses in rural New South Wales.
85 minutes (Co-Director)
1984 Collum Calling Canberra, Australian Institute of Aboriginal Studies. An account of two Aboriginal men steering their way through the often frustrating processes of official decision-making as they attempt to fund an Aboriginal enterprise to make it self-supporting.
58 minutes. (Co-Director)
1984 Stockman's Strategy, Australian Institute of Aboriginal Studies. The philosophy of teaching and learning of Sunny Bancroft, manager of an Aboriginal-operated cattle station in northern New South Wales.
54 minutes. (Co-Director)
1983 A Transfer of Power, Australian Institute of Aboriginal Studies. A single event, (exchanging motors in 'the Mighty' Holden Kingswood sedan) reveals much about work practices and relationships of Aboriginal men on a cattle station in New South Wales.
28 minutes (Director/Editor)
1982 Three Horsemen, Australian Institute of Aboriginal Studies. A documentary about three generations of Aboriginal stockmen.
55 minutes. (Co-Director)
1981 A Wife Among Wives, an investigation of how the Turkana people in Northwest Kenya view marriage.
72 minutes. (Co-Director)
1978 Takeover, Australian Institute of Aboriginal Studies. An inside view of the State/Federal confrontation over Aboriginal rights at Aurukun, northern Queensland.
90 minutes. (Co-Director)
1977 The House-Opening, Australian Institute of Aboriginal Studies. A film about a widow and her family and the preparations for her mourning ceremony that combines European, Aboriginal and Torres Strait Island elements.
45 minutes. (Director, Editor, Sound)
1974 The Wedding Camels, a narrative documentary about a wedding among the Turkana in northwest Kenya.
l08 minutes. (Co-Director)
1974 Lorang's Way, a portrait of a Turkana man and the forces that have made him what he is.
70 minutes (Co-Director)
1969 Arthur Penn, National Educational Television, U.S.A. A portrait of the film director by Robert Hughes. (Sound, Warren Beatty segment)
1968 To Live With Herds, a feature-length documentary film about the implications of development policies for the Jie of Uganda during a period of drought.
(Co-Producer)
1968 Imbalu Ethnographic Film Program, University of California. An ethnographic film of how two Gisu boys of Uganda prepare for and pass through the ordeal of initiation. (Second Camera)
1967 Indians and Chiefs, a feature-length documentary film about rural Native Americans recently settled in Los Angeles. (Director/Editor)
1966-7 Negroes in American Culture, a Special Affairs series for KNBC-TV, Los Angeles. Winner of West Coast "Emmy" Award in the Documentary and Educational Division. (Production Manager)
___________________________________________________
"The MacDougalls are developing a post-Warholian behavioral cinema." - J. Hoberman, The Village Voice, NY.
"The films of David and Judith MacDougall evince a special brand of casual elegance. ... These artists are among the world's finest anthropological filmmakers." - Film Forum, NY.
"Documentary does not stand still. ... Objectivity is not claimed, and in the work of the MacDougalls and Rouch, is replaced by the close attention to detail and the structure of the observed event. This produces a new form of narrative close to the work of Renoir, Rohmer, Olmi or Loach. It is in ethnographic film that this is seen at its clearest. ... The MacDougalls [are] the best of the observational film-makers." - Colin Young, Edinburgh International Film Festival.
"David and Judith MacDougall are the most prolific and important ethnographic filmmakers in the anglophone world today." - Lucien Taylor, American Anthropologist.
"The MacDougalls' films accomplish the very goal of cultural translation to which the finest ethnography aspires." - Fred Myers, Cultural Anthropology.
"David MacDougall is one of the leading anthropological film-makers of the generation following Rouch's. ... The twenty or so films that he has both shot and directed have been highly influential in establishing a model of good practice in ethnographic film-making. MacDougall also has the ability to write elegantly and reflectively about what he does." - Paul Henley, London Review of Books.
"MacDougall stands as one of the great creators of, and commentators on, film working today." - Bill Nichols, San Francisco State University.
"The MacDougalls' films have set a standard of professional quality and integrity which may well mark out guidelines for this type of ethnographic film-making for many years to come." - James Woodburn, Royal Anthropological Institute.
"For those familiar with the field of Visual Anthropology, the name MacDougall appears with welcome regularity. ... This volume [Transcultural Cinema] shows that David MacDougall's theoretical insights equal his outstanding contribution to the practice of ethnographic film-making." - T. Wright, Journal of the Royal Anthropological Institute.
"David MacDougall, without doubt one of the most interesting contemporary director-ethnologists, has the relatively rare merit of uniting cinematographic practice to theoretical reflection, so much so that we can unreservedly assign him a foremost role in the 'renewal' of visual anthropology." - Paolo Chiozzi, Visual Anthropology.
___________________________________________________
THE WEDDING CAMELS
"Though modest in tone, 'The Wedding Camels' demonstrates a structural sophistication well beyond that of almost any other documentary film work today." - Bill Nichols, Film Quarterly.
"[The Wedding Camels is] the freshest and most engaging film of its kind since the early days of Jean Rouch." - Charles Spelvin, Soho News, NY.
"The MacDougalls' beautiful new anthropological feature on the Turkana people of Kenya is an extraordinary film; a breakthrough in generic terms. ... The Wedding Camels relies strongly on the translation of spoken language to convey complex relationships and in larger, more cinematic terms to create a highly expressive, often comical study of human nature." - Film Forum, NY.
___________________________________________________
LORANG'S WAY
"[Lorang's Way] is a sort of laidback Citizen Kane." - The Village Voice, NY.
"Lorang's Way focuses upon a Turkana elder who serves not only as the subject of a beautifully observed portrait but also in many ways as a spokesman for the Turkana. ... The film could be described as a 'philosophical essay' which resists written description, so rich and detailed are its images and statements." - James Woodburn, Royal Anthropological Institute.
"The first Turkana film ... got through to me on a very personal level-and I don't mean just because it managed to do everything one has been prevented from doing in TV for years. Fatuous as it may sound, the comparison which sprang to mind was Virginia Woolf: something to do with the tone created by the particular blend of classicism, detail and faultless timing." - Dai Vaughan.
___________________________________________________
TO LIVE WITH HERDS
"To Live with Herds was to influence a generation of film-makers who were seeking a documentary style which got closer to people of non-literate cultures." - Peter Loizos, Innovation in Ethnographic Film.
"MacDougall's early film, To Live with Herds (1971), is often cited as a classic example of observational cinema, while much of his subsequent work (the Turkana trilogy and the collaborations with Australian Aboriginal communities) is acknowledged to constitute an important critique of the genre." - Anna Grimshaw, Visual Anthropology Review.
The MacDougalls' considerable achievement with the East African films was to follow Rouch's lead in working for a more 'direct' documentary style, but to add to it an ability to allow events to unfold, and subjects to comment at a more leisurely pace. To Live with Herds was the most important ethnographic film to have been made since Chronique d'un été and it was intellectually a much more complex film text than the Rouch-Morin film. - Peter Loizos, Innovation in Ethnographic Film.
"[To Live with Herds is] one of those rare documentaries that seem to have a life of their own... Mr. MacDougall's camera is quietly there, observing all, missing nothing in this moving, penetrating, anthropological picture. No wonder it was cited at last year's Venice Film Festival." - Howard Thompson, The New York Times.
"[To Live with Herds] offers an admirable harmony of photographic and editorial styles. In few other films do tribal people speak so naturally and informally about themselves." - Roger Sandall, Sight and Sound.
"[To Live with Herds is] one of the most humorous, touching, informative, and (in both spirit and aesthetics) beautiful anthropological films I have ever seen." - Karen Cooper, Film Forum, NY.
___________________________________________________
DOON SCHOOL SERIES
"The Doon School films are landmark visual essays into the cultures of middle class modernity in India. They will prove important tools towards an understanding of the institutional sites and cultures of the self that constitute postcolonized life." - Prof. Sanjay Srivastava, Deakin University.
Filmography
| | |
| --- | --- |
| | Three films by David and Judith MacDougall. Purchase all 3 films as TURKANA CONVERSATIONS or buy individual titles via following links: * LORANG'S WAY * http://www... |
| | A girl of the homestead, Akai, is to marry Kongu, an old friend and age-mate of her father, Lorang. Because of the close ties between Lorang and Kongu, everything should go smoothly, but the pressures within the two families are such that the wedding negotiations become increasingly tense and almost break down altogether... |
| | We hear the testimony of three remarkable sisters (one of them being Arwoto, the senior wife of Lorang, who figures so prominently in the other films)... |
| | A classic of ethnographic cinema, at last readily available in Australia. TO LIVE WITH HERDS is a film about the Jie, a predominantly pastoral people of northeastern Uganda... |
| | PHOTO WALLAHS is set in Mussoorie, a famous hill station in northern India which has attracted tourists since the 19th century... |
| | Because they are relatively isolated and self-sufficient, most Turkana (including Lorang's own son) see their way of life continuing unchanged into the future... |
| | DIYA is an innovative new film by Judith MacDougall, who has made many influential and important landmarks in ethnographic cinema, including the TURKANA CONVERSATIONS series... |
| | Choices about how to regard history, reality, and material culture confront everyone in contemporary China. In this digital age, the old can be made young again, and anyone can be more beautiful... |
| | Gordon Smith, head of the Collum Collum Aboriginal Co-operative which operates a cattle station in northern New South Wales, and Sunny Bancroft, the station manager, are negotiating with the Aboriginal Development Corporation in Canberra for a loan... |
| | Constructed as a series of vignettes of station life, the film focuses particularly on the relationship between Sunny Bancroft, the station manager, and a 16-year-old trainee, Shane Gordon... |
| | Country folk know of pleasures that townsfolk never know ... The story of an Aboriginal stockman and his family and their growing passion for "picnic racing" on bush tracks in New South Wales... |
| | This observational documentary follows an episode in the routine life on Collum Collum cattle-station in northern New South Wales... |
| | DIGITALLY RE-MASTERED FROM ORIGINAL FILM MATERIALS! One of the major works produced by the AIAS Film Unit, this documentary observes the profound effect on an Aboriginal community of political and bureaucratic decisions made far away... |
| | THREE HORSEMEN is one of several films that the MacDougalls made in and around Aurukun in the far north of Queensland. It is a deeply moving portrait of three generations of Aboriginal stockmen at Ti-Tree station, 80km south of Aurukun, a former cattle out-station of Aurukun Mission and now a settlement for people who regard Ti-Tree as their home... |
| | "House-opening" ceremonies in a contemporary Aboriginal community combine elements of Aboriginal, Torres Strait and European cultures in dealing with death... |
| | Filmed in South India at the progressive Rishi Valley School, founded by the 20th Century Indian thinker Jiddu Krishnamurti, Awareness explores the sensibilities of two groups of young Indian teenagers - a group of girls in their dormitory, and a group of boys in theirs - as they live out their daily experiences at the co-educational school... |