SUNNY AND THE DARK HORSE [from the AIATSIS Collection]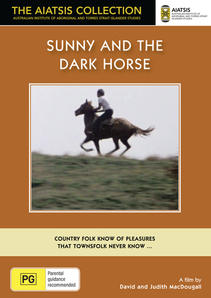 price includes GST and postage

Country folk know of pleasures that townsfolk never know ... The story of an Aboriginal stockman and his family and their growing passion for "picnic racing" on bush tracks in New South Wales.
SUNNY AND THE DARK HORSE was filmed at Collum Collum, an Aboriginal-operated cattle station in north-eastern New South Wales. The film follows the Aboriginal manager of the station, Sunny Bancroft, and his non-Aboriginal wife, Liz, in their search for a winning horse to triumph on the local picnic racing circuit – but things don't always go their way.
The story begins when Sunny buys a horse for his daughter to ride and races it at the Glenreagh Gallop. He then attempts to find a suitable stockhorse on the station to race at the local Baryulgil picnic races. But while training one of these he hears that a friend has a racehorse for sale and buys it to race at Baryulgil. The horse, King, wins at Baryulgil but loses at subsequent race meetings. Sunny determines to find another winner and buys a black horse, naming it Sambo.
With the end of the season, Sunny is persuaded by his family not to buy any more horses, but then he hears that a friend has another racehorse for sale ...
Unlike other ethnographic films by the MacDougalls, SUNNY AND THE DARK HORSE follows the lead of Jean Rouch in films such as JAGUAR, playing with ideas of "ethno-fiction", deploying the talent of Sunny Bancroft as a charismatic story-teller. Though filmed as an observational documentary, it was in the editing of the film that Sunny's yarn-spinning skills took over the shaping of the film, and made it unique in the MacDougalls' oeuvre.
The film is one of four documentaries that the MacDougalls made at Collum Collum. See also COLLUM CALLING CANBERRA, A TRANSFER OF POWER and STOCKMAN'S STRATEGY.
Produced and directed by David and Judith MacDougall
Photography by David MacDougall
Additional photography by Colin MacDougall
Sound by Judith MacDougall
Edited by Christopher Cordeaux
Music composed and performed by Harry and Wilga Williams and the Country Outcasts
Production liaison: Beverly Ross, Norma Briscoe
An AIAS Film Unit production - 1987 | English language
Ronin Films wishes to advise Aboriginal and Torres Strait Islander
people that this film may contain images and voices of deceased persons.
Related files