STONE COUNTRY
Year: 2006
Classification: Exempt - Ronin Recommends: G
Runtime: 26 min
Produced In: Australia
Directed By: Mark Anderson
Produced By: Jeff Morgan, Mark Anderson
Language: English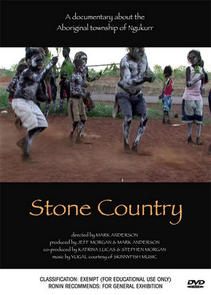 price includes GST and postage

Set in the township of Ngukurr, on the border of Aboriginal-owned Arnhem Land, we follow the stories of several residents – from the local DJ to respected community elders. Through these stories, we come face to face with the realities of life for Aboriginal Australians: a life expectancy 20 years less than other Australians, and often inadequate access to housing, roads and hospitals.
Filmmaker Mark Anderson and producer Jeff Morgan were invited to Ngukurr, a remote Aboriginal township in southeast Arnhem Land, by the then CEO of the Yugul Mangi council in Ngukurr, Andrei Koeppen, and the council president, David Daniels, to film a documentary about life in Ngukurr and to speak with the locals about their growing concerns for their community. Mark also visited the late Dawson Daniels, a senior Nunggubuyu elder and traditional caretaker of Ngukurr land, who was then in Adelaide receiving treatment for spinal cancer. Dawson spoke to Mark about the hardships his people have come to face, and asked him to bring awareness to the issues that Ngukurr, and many other Indigenous communities, currently face. The Indigenous people of Ngukurr are living significantly below the poverty line. Their remoteness sees them in short supply of fresh produce and their early mortality rates are often due to diseases related to poor nutrition. In some instances there are up to thirty individuals living together in three bedroom homes with poor standard of living facilities and conditions. In this region Australia's Indigenous people are dying up to twenty years younger than the rest of the population.
WINNER! 'Best Documentary' South Australian Short Screen Awards.
OFFICIAL SELECTION Berlin Asia-Pacific Film Festival.