PAINTING THE TOWN
Year: 1986
Classification: G
Runtime: 59 min
Produced In: Australia
Directed By: Trevor Graham
Produced By: Trevor Graham, Ned Lander
Language: English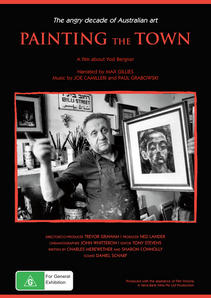 price includes GST and postage

In 1937 Yosl, a 17-year-old Polish Jew, arrived in Melbourne where he joined his sister Ruth, a dancer, and his father Melech Ravich. A leading Yiddish writer, Ravich had journeyed to Australia to search for a new homeland for Jews fleeing anti-Semitism and fascism in Europe.
But Australia in the late 1930s was still suffering the effects of economic depression. Unemployment was widespread and few people had been left unscathed by the disenchantment of the decade.
Jim Wigley and Albert Tucker, who appear in PAINTING THE TOWN, tell of a school of painters committed to representing their experience of this era. Their group, which included artists Noel Couniham, Sidney Nolan, Arthur Boyd, Joy Hester, Danila Vassilieff and John Perceval, learned much from Yosl Bergner who, in spite of his youth, became an inspirational figure in this circle.
Drawing their themes and images from the modern world, these painters were pre-occupied with the horror, waste and disposse3ssion of the years in which the world drifted from depression into war.
Yosl painted both from memories of Warsaw, his home city, and from experience of a new land, Australia. Together with his paintings of refugees, ghettos and the destruction of Europe, he exhibited works depicting the sufferings of Australian Aboriginals, for Yosl saw their plight and that of his own people, the Jews, as one.
The story of Bergner and his work is the story of a movement which gave birth to an Australian city art, a movement which battled to create a new Australian identity in the face of cultural isolation and a conservative pastoralist artistic tradition.
Yosl Bergner, Ruth Bergner, Jim Wigley and Albert Tucker bring the richness of their experience to PAINTING THE TOWN. Their anecdotes and reflections combine with archival film and significant art works of the period to tell an important and vibrant story; a story in which history makes paintings and paintings make history.
Bergner lived in Melbourne from 1937 until 1948 before migrating to Israel. He died on 18 January 2017 in his Tel Aviv home, aged 96.
See this excellent article: visual.artshub.com.au/news-article/news/visual-arts/deborah-stone/vale-yosl-bergner-artist-who-saw-aboriginal-australia-with-holocaust-eyes-252989