Anthony Buckley AM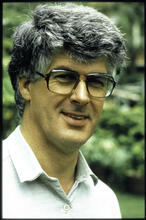 Regarded as one of the leaders of the Australian film Industry, Anthony Buckley began his career with the Sydney newsreel company Cinesound.
As his first foray into feature films, he edited Michael Powell's Age of Consent, Ted Kotcheff's Wake in Fright and Rudolf Nureyev's Don Quixote.
His first production as a feature film producer was Caddie in 1975, a winner of 14 awards. He went on to produce many memorable and award-winning feature films including The Irishman, The Night The Prowler, The Killing of Angel Street, Kitty and the Bagman, Bliss (selected for competition in Cannes), beDevil, On Our Selection and Oyster Farmer. For television he has produced The Harp in the South, Poor Man's Orange, Man on the Rim - Peopling of the Pacific, Celluloid Heroes, Mr Edmund, Bryce Courtenay's The Potato Factory and Jessica, The Heroes and many others.
In 2009, he published his memoirs, Behind a Velvet Light Trap (Hardie Grant Books, Melbourne).
Filmography
| | |
| --- | --- |
| | Episode 9: Roads Without Wheels In South America, also isolated from the rest of the world, there developed a set of societies that faced the continents various environments... |
| | Episode 5: Changing the Menu More than ten thousand years ago in Southeast Asia an extraordinary discovery was made - how to control animals and plants... |
| | DVD 1 Episode 1: First Footsteps This episode explores the arrival of the first humans to reach the Pacific Ocean and their transformation into the earliest modern people of the area... |
| | NOW DIGITALLY RE-MASTERED FROM ORIGINAL FILM NEGATIVES! (available as DVD and DCP) "A DAZZLING TAPESTRY ... distinctly different ... |
| | A wickedly funny and subversive collaboration between Nobel Prize-winning author Patrick White and one of Australia's most adventurous film directors, Jim Sharman (director of )... |
| | IN COMPETITION - CANNES FESTIVAL WINNER OF 3 AFI AWARDS INCLUDING BEST PICTURE BASED ON PETER CAREY'S AWARD-WINNING BEST-SELLING NOVEL... |