BLISS
Year: 1985/2022
Classification: MA
Runtime: 111 min
Produced In: Australia
Directed By: Ray Lawrence
Produced By: Anthony Buckley AM
Language: English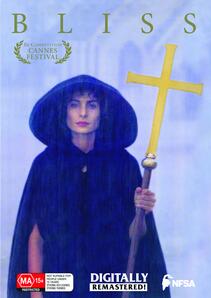 price includes GST and postage
IN COMPETITION - CANNES FESTIVAL
WINNER OF 3 AFI AWARDS INCLUDING BEST PICTURE
BASED ON PETER CAREY'S AWARD-WINNING BEST-SELLING NOVEL.
DIRECTED BY RAY LAWRENCE (director of LANTANA and JINDABYNE) Now superbly re-mastered by the National Film and Sound Archive, as part of the NFSA Restores program, from the original 35mm film negatives.
This celebrated debut feature by Ray Lawrence is a masterwork of bold ideas, gleefully surreal images, subversive farce and tenderness.
Following a clinical death from heart attack, Harry Joy (brilliantly played by Barry Otto) returns to life and all of the certainties of his previous world have vanished. The life he had previously drifted through amiably is in fact Hell to the re-born Harry. His wife (Lynette Curran) is in a sordid affair with his business partner, his teenage son is mixed up in drugs and incest, and all around him people are dying. It takes an angel in the form of an ex-prostitute (Helen Jones) to set him on the path to discovering bliss.
VIEW TRAILER HERE: vimeo.com/674598357
"Bliss is a key film in the story of Australian movies. ... A leap away from naturalism and the historical realism of the 'new wave' of the 1970s, towards the modernism of the 1990s. ... When the film won the AFI Awards for Best Picture, Best Direction and Best Adapted Screenplay for 1985, Bliss became an art-house hit. It played for six months in Sydney and around the country. ... (It is) a completely original kind of Australian comedy, with a surreal and sardonic sense of humour. Lawrence's poetic imagery is startling. ...The film is gleefully vulgar but sophisticated, irreverent and yet full of poignancy." – Paul Byrnes, Australian Screen Online
Starring BARRY OTTO, LYNETTE CURRAN & HELEN JONES
with MILES BUCHANAN, GIA CARIDES, TIM ROBERTSON, JEFF TRUMAN, PAUL CHUBB, KERRY WALKER
Director of Photography PAUL MURPHY Film Editor WAYNE LE CLOS
Art Director OWEN PATERSON Costume Design HELEN HOOPER Music PETER BEST
Screenplay by RAY LAWRENCE & PETER CAREY Based on the book "Bliss" by PETER CAREY
Produced by ANTHONY BUCKLEY Directed by RAY LAWRENCE
Produced in association with the New South Wales Film Corporation.
© Anthony Buckley Productions Pty Ltd, 1985