SOHRAB AND RUSTUM
Year: 2018
Classification: Exempt - Ronin Recommends: G
Runtime: 14 min
Produced In: Australia
Directed By: Lee Whitmore
Produced By: Jingjing Ma, Lee Whitmore
Language: English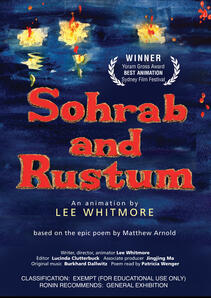 price includes GST and postage

WINNER! Yoram Gross Award for Best Animation, Sydney Film Festival
WINNER! The Sergio Aragones Award for Best Animated Film, Ojai Film Festival, California
Sohrab and Rustum is an animated film by Lee Whitmore about a charismatic young English teacher reading a famous poem to her class of fourteen year old girls whose concerns are pop music and nail polish. Unexpectedly the poem takes the girls on a journey to ancient Persia and a legendary battle on the sand between two warriors, the Tartar Sohrab and the Persian Rustum. The story ends tragically and the girls are confronted with the reality of death. In the last stanza watercolour images of the night sky over the mighty Oxus River are a reminder of the beautiful eternal nature of life. Back in the classroom the girls brush sand off their legs and Lee looks at the scarf a Tartar warrior has given her. The teacher smiles as she leaves the classroom.
"Years ago when I was in an all girls' school I had this amazing English teacher. She was young and unconventional and had the power to excite and stir our imaginations like no other. She used poetry to speak of drama and tragedy, love romance and death with such passion that I remember her words to this day. She was able to connect poetry to our ordinary lives.
"I have always wanted to celebrate this teacher. I remember her most vividly reading Sohrab and Rustum, a beautiful, haunting story. She probably only read bits from the epic poem but I have never forgotten them."
Lee Whitmore is an award-winning writer, director and animator. Her films are all autobiographical, often about childhood and family. Four of her animations are available in the collection, Hand-Drawn Histories, available from Ronin Films: for information see www.roninfilms.com.au/video/822/0/5892.html
Writer, director, animator Lee Whitmore
Editor Lucinda Clutterbuck
Associate producer Jingjing Ma
Original music Burkhard Dallwitz
Poem read by Patricia Wenger
VIEW TRAILER HERE: vimeo.com/418320583
DVD EXTRA: Interview with Lee Whitmore about the making of Sohrab and Rustum