Lee Whitmore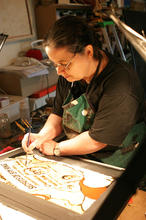 I spent hours as a young girl watching my father create illustrations for stories in the 'Woman's Weekly'. I watched him mix colours and lay beautiful washes on pencil drawings. I learnt all about making pictures that tell stories. When I grew up it was only a small step for me to imagine making 'moving pictures' that tell my own stories.
In 1974 I married the writer Mark Stiles. In the same year I enrolled in a theatre design course at the National Institute of Dramatic Art. I moved from painting and illustrating children's books to getting involved in small theatre groups and architecture revues. One thing led to another and before I knew it I was designing short films with friends. So began my involvement in performance and film.
My first major task was as graphic artist in the art department on the feature NEWSFRONT (1978) directed by Phillip Noyce. I found it to be so much fun as everyone was pitching in doing whatever had to be done. Other short films followed as well as work as production designer on two feature films: STIR (1979) directed by Stephen Wallace, and THE WINTER OF OUR DREAMS (1980) directed by John Duigan. The work was hard and exciting but I knew I still needed to tell my own stories.
In 1984 with the help of the Women's Film Fund I retreated to the solitude of my studio and made my first animated film NED WETHERED. The success of NED WETHERED set me on the path of making more animated films - each one a story about my family and my childhood. Around this time Mark and I had two beautiful children Alice and Harry. ON A FULL MOON was made in 1997, ADA for SBS in 2002, and THE SAFE HOUSE in 2006. These films are all made using techniques my father had introduced me to - pencil drawing, charcoal and pastels, and oil painting. To my surprise my family stories seemed to mean things to other people. They have been shown extensively at festivals around the world and have received awards and recognition in Australia and overseas.
When I am not locked away on my own work I enjoy teaching design and creating animation and graphics for other filmmakers' projects. I have created 'pictures' for many dramas and documentaries, including animated sequences for the feature films BREATHING UNDER WATER (1990) and LOOKING FOR ALIBRANDI (2000).
Since 2006 I have been travelling and writing. I went to China inspired by the master Chinese animator Te Wei. The trip has been very influential in the writing of my a feature-length film I have been developing called CRYING SKY.
In 2018 I launched my new animated film, SOHRAB AND RUSTUM, again built around childhood memories and an epic poem by Matthew Arnold which a teacher had read to us in school.
Filmography
| | |
| --- | --- |
| | While Lee Whitmore has contributed animation sequences to many feature films, shorts and documentaries, it is her body of four short personal works that are her most unique and original work... |
| | The first of Lee Whitmore's personal animations, recording her memory of her childhood and a visitor who often called on her family... |
| | Contemplative memories of childhood and family by animator Lee Whitmore, lovingly animated frame by frame by pencil and pastel on paper... |
| | The most ambitious work to date by one of Australia's leading animators, Lee Whitmore: a careful, loving recreation of a quiet suburban street in Sydney in the 1950s and the moment when larger issues intruded in the form of the Petrovs, ASIO and the newspapers... |
| | This miniature masterpiece by animator Lee Whitmore draws on memories of her childhood, and especially the stillness and silence of her elderly grandmother... |