JACK THOMPSON Live at the Gearin Hotel
Year: 2011
Classification: Exempt - Ronin Recommends: G
Runtime: 55 min
Produced In: Australia
Directed By: Glenys Rowe
Produced By: Glenys Rowe
Language: English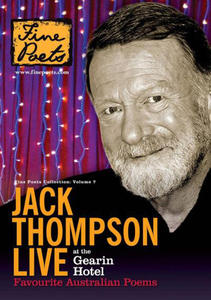 price includes GST and postage
Australia's most loved actor reads Australia's most loved poems LIVE!
The much loved Aussie actor Jack Thompson is in his element reading Australia's most loved classic poems in front of a live audience at the splendid art deco Gearin Hotel Katoomba NSW.
---
DVD extras include:
The Shearers' a vintage piece of Australiana from 1950 about the roving life of the Aussie shearer.
Directed by Hugh Alexander. Produced by Stanley Hawes. Courtesy of Screen Australian Sales.
A feature about the Jack Thompson Foundation for Indigenous Building.
Jack Thompson reads The Ballad of the Drover by Henry Lawson.
---
1 The Integrated Adjective by John O'Grady
2 The Man From Ironbark by A.B. (Banjo) Paterson
3 The Play by C.J. Dennis
4 Doreen by C.J. Dennis
5 The Geebung Polo Club by A.B. (Banjo) Paterson
6 Said Hanrahan by John O'Brien
7 After All by Henry Lawson
8 The Man From Snowy River by A.B. (Banjo) Paterson
9 When Unobserved by Jack Thompson
10 Clancy of the Overflow by A.B. (Banjo) Paterson
11 Encore - The Integrated Adjective by John O'Grady