Solrun Hoaas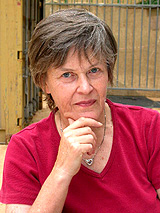 Solrun Hoaas spent fourteen formative years in China and Japan. She discovered theatre as a student in Oslo and Kyoto, where she also trained as a Noh mask maker.
She moved to Canberra in 1972, taught secondary French, then worked in the Japanese Dept. and completed an M.A. in Asian Studies at Australian National University. In this period she also directed theatre, translated, filmed Japanese ritual performances on Super 8 and wrote non-fiction.

In 1977 she began solo filming on 16mm in Okinawa. In 1980 she completed a graduate diploma in film at Swinburne Institute of Technology and in the next three years, four documentaries from Hatoma Island, Okinawa.
She has written, produced and directed several Japan-related films, including the feature film Aya (1990), and in recent years turned to Korea and more political content in Pyongyang Diaries (1997) and Rushing to Sunshine (2001). She has run film courses for AFTRS, lectured on Japanese film and theatre, and taught Australian cinema to Japanese students from Kyoto.
Since 2004 she has also turned to handmade prints, experimenting with film images combined with copperplate etchings, while continuing to develop feature film scripts, including: The Siren of Seoul, The Okinawan Daughter, The Watchmaker, and Fearless Tours.
_____________________________________________________________
Solrun passed away on 11 December 2009 after a short illness.
-------------------------------
From Geoff Gardner and Karen Foley:
Solrun was born on 15 August 1943 in Trondheim, Norway to missionary parents who had been in China before the war. She was the only girl and had three brothers. After the war the Hoaas family returned to China, but the revolution in 1949 saw them move to Hong Kong for a year, then to Kobe, Japan, where they lived throughout the '50s and part of the '60s. The home was a Lutheran church school in the Aotani district of the city. After attending the Norwegian primary school in Shiotaki near Kobe Solrun went to the Canadian Academy, an international school in that city. Upon graduation from its high school she spent a year in the United States, then travelled to Norway where she enrolled at the University of Oslo, majoring in social anthropology. In 1969 she received a Japanese Ministry of Education scholarship to do graduate studies at Kyoto University and that is where she met Roger Pulvers. They were married in February 1970 in Kyoto and divorced in 1982.
Karen and I met Solrun and Roger when they arrived in Canberra in the early 70s. They both threw themselves enthusiastically into the local theatre scene, Roger as a writer and director, Solrun as a designer. We knew that they had met and married in Japan, a country where Solrun had also spent much of her childhood and adolescence as the daughter of Christian missionaries.
As it happened Karen and I came back to Melbourne in 1980, the same year that Roger was appointed to a job with the Playbox Theatre. When Solrun arrived she was admitted to the post-graduate course in film production at Swinburne College. We kept in touch. Solrun was a prolific film-maker and one of her films went on at my 1981 Melbourne Film Festival. It was her graduation film for Swinburne In Search of the Japanese, a satiric study of Australian incomprehension of Japanese/Australian relations.
We came back to Canberra in 1985 but we were close friends by this stage and our years in Melbourne saw us sharing each other's company frequently, especially at Christmas. In one memorable Christmas a boat load of Solrun's relatives were visiting. Her niece Guro-Marte was doing a part of her medical degree at an Australian hospital and the family descended to join her. All told another ten people or so from Norway joined us around the Christmas table for an especially festive occasion.
Her films, which she continued to make prolifically, by now were being distributed by Andrew Pike's Canberra company Ronin Films and she had ambitions to make dramatic features. Before that could happen she with Karen as co-producer and some funds from Andrew Pike had got funding from Film Victoria, for an hour long documentary on Japanese war brides. This was to become Green Tea and Cherry Ripe. It was filmed in Melbourne and post-produced in Canberra. For six months or so Solrun lived in Canberra again, the office next to mine in the deepest reaches of the backstage of the Canberra Theatre became an editing suite, the editor Stewart Young lived in our house in Narrabundah (Heights), and the film took shape. It's a touching documentary about a group of women that Solrun located and with whom she maintained friendships thereafter.
Solrun then got funding for a script she had written for a dramatic feature about a Japanese War bride living in Australia in the 50s. At that stage Karen had to decide whether to join the film production or stay with the Electric Shadows Bookshop she had opened. She stayed with the bookshop and Denise Patience came on board as Producer. Aya starred Nicholas Eadie and the Japanese actress Eri Ishida. Regrettably it didn't click with the Australian public and Solrun never got another chance to do another feature film.
This wasn't for lack of trying or lack of enthusiasm. She wrote a large number of scripts, many of them dealing with themes involving Australia and Japan, but they were not received sympathetically. Undeterred she continued to travel to Japan and also accepted invitations to visit South Korea. As was Solrun's wont, she pushed the authorities until she got a visa to North Korea as well and, seizing the moment and using the new digital technology, put together a remarkable little film about her travels. This was Pyongyang Diary one of the first films to show anything of what life is like in this odd and very secretive society. It earned her more than a little money, some festival screenings and an ASIO interview. She followed this film with another documentary about North and South Korean relations, Rushing to Sunshine which also had some international success.
In recent years Solrun had devoted much of her time to studying and practising print making. She was an inveterate student, constantly enrolling in classes to study new technologies, and latterly getting herself very involved in print-making classes. Much of the visual material she used for her prints derived from stills of her own films which she reworked and recoloured into quite remarkable pieces of art. In the last year or so she had been represented in a number of group shows and had solo exhibitions at Gasworks Arts Precinct, the Joshua McClelland Print Room, the Benalla Gallery and the Albion Street Gallery in Sydney.
It's only a couple of weeks ago that Solrun rang to say that she had been diagnosed with a cancer. There was some hope that it might be operated upon but further tests would determine that. Last Friday she went to hospital for a scan, suffered a heart attack and went into a coma. Only a matter of hours later it was decided that the life support systems should be turned off. It was shockingly sudden.
We are left with extraordinary memories of a wonderful person. Our walls at home are decorated with a number of her prints and they will serve as a constant reminder of the life and work of a great and loyal friend with whom, for the first time in a couple of decades, we wont be sharing Christmas. We will miss her.
-------------------------------
From Andrew Pike:
Filmmakers often make much of the fact that their second features are harder to "get up" than their first, and that's certainly true of Solrun. After her first feature, AYA, the components never really came together for a second film, though she kept working away at screenplays. Some of these scripts were superb works and maybe they can now be published, or even better produced posthumously. Two stand out in my memory. THE OKINAWAN DAUGHTER was a large-scale piece about an Australian retiree who travels back to Okinawa to look for the Okinawan woman with whom he'd had an affair during the Allied occupation of Japan. It's a screenplay rich in romance and drama and action, and it would have been a perfect vehicle for Bill Hunter or Tony Barry, but sadly it never found the right producer. On a more personal level, MISSIONARY KID was a reflective autobiographical "essay" film about Solrun's experience growing up as the child of Christian missionaries in Japan: it was a very moving and beautifully crafted work that was so unconventional that it never really had a chance of finding production funding. Ronin put some money into another documentary project to be called something like IN SEARCH OF MIYOSHI UMEKI, attempting to trace (or reconstruct) the life story of the Japanese actress and singer, Miyoshi Umeki, after she had won an Oscar for her role in SAYONARA and had done a few other films and a stint on TV before disappearing from public view.
Solrun had some loyal supporters at Film Victoria and the Australian Film Commission, although the wider Australian film industry often ignored her work. While this caused her much frustration, she never gave up developing brilliantly original and distinctive treatments and screenplays that were works of art in themselves, and all of which remained determinedly idiosyncratic and pure to her own vision. She never sought to sacrifice her artistic ideals or aspirations for simple financial gain.
All of the projects that she developed reflected her superb use of language and her rich cultural background in Australian and Japanese literature and history. The characters and stories and ideas that she created were strong and hauntingly beautiful. Nothing she did was tentative. As a writer she could have easily adapted her screenplays into novels or short stories but she never seemed to want to do that, as though that would mean giving up on them as films.
Solrun's completed works remain a great tribute to her persistence in the face of quite severe odds. Her Hatoma series, which she filmed by herself, with no assistant, and with minimal funding on a remote island in southern Okinawa, were an extraordinary achievement: the films were shot on 16mm without synch sound, over a period of many months, and often under very difficult conditions. They still screen today in Japan.
Her film on Judith Wright, AT EDGE, is an experimental work rather than a conventional documentary, with sound that moved deliberately in and out of synch, much to the confusion of librarians who would sometimes ring to say there was a problem with their video or DVD. Regardless, it still circulates quite widely.
Her other documentaries have reached wide audiences. GREEN TEA AND CHERRY RIPE on Japanese war brides in Australia, still has enthusiastic viewers and hasn't dated at all. And the first of her two Korean films, PYONGYANG DIARIES sold well to TV internationally and to the ABC here in Australia.
It was fascinating to see her work her way through the production and completion of AYA, another film in which Ronin invested a considerable sum. The final film was very true to the script, and she took confident command of every stage of the process, working closely with producer Denise Patience. I remember especially her enthusiasm for the music (released on a 45rpm disc, still boxed in bulk in the depths of my garage) – both the original compositions by Roger Mason and the 1950s Japanese pop songs which she had found and cleared for the film. The editor of AYA, Stewart Young, remembers Solrun as being well-organised and well-prepared, and that she always knew what she wanted, more so than most first-time directors. That was very much our impression too as her backer and distributor.
Her confidence and cultural sophistication made her an excellent teacher and she taught many short courses and gave lectures for AFTRS and other institutions. She often helped filmmakers and artists in other fields find their way in Japan. She certainly helped me a great deal with contacts and to enrich my first deep immersion in Japanese culture. I remember vividly trekking with her into remote mountain villages in Japan to attend traditional festivals which she would film often under very daunting conditions which never seemed to bother her.
Personally, she was a loyal and stimulating friend. Many years ago she frequently baby-sat my daughters, Harriet and Georgia, and much later took an active interest in what they were doing. We were often given amazing masks to "store" indefinitely because she didn't have room for them in her little Melbourne flat. As her distributor, she could often be exacting about how she'd like things done, but she was never wrong and never unreasonable. We all admired and respected her work and her professionalism and above all the quality of what she was wanting to do. She was open to all forms of art and always embraced the artistic endeavours of other people and could be very supportive and encouraging to us all as our projects developed. We will miss her keenly.
-------------------------------
From Merrilyn Pike:
I saw Solrun as the genuine article, in terms of her absolute commitment to following her sense of living for the art, whichever it was she was engaged with, and whatever it cost her. And it cost her a lot, though in the end she has such a fine body of work as a legacy.
My feeling of connection with Solrun comes partly from a shared feeling for Japanese culture and aesthetics, with which she was imbued, and I always valued that she could bring such a broad culture, including a deep knowledge of European drama and literature as well as her Japanese background, not only to her art but to her everyday conversation. These conversations were always stimulating, and I am sorry there will not be any more of them.
Filmography
| | |
| --- | --- |
| | RUSHING TO SUNSHINE is a personal essay film that looks at South Korea's uncomfortable but growing acceptance of North Korea over a two year period... |
| | Available only in the collection of four films made by Solrun Hoaas on Hatoma Island: THE HATOMA FILMS. Search under this title on the Ronin website: https://www... |
| | Available only in the collection of four films made by Solrun Hoaas on Hatoma Island: THE HATOMA FILMS. Search under this title on the Ronin website: https://www... |
| | Available only in the collection of four films made by Solrun Hoaas on Hatoma Island: THE HATOMA FILMS. Search under this title on the Ronin website: https://www... |
| | The film begins in the 1950s: life is back to normal for most Australians, but for Aya (Eri Ishida) the conflict is just beginning... |
| | NOW DIGITALLY REMASTERED. EFFACEMENT shows a Japanese Noh maskmaker, Taniguchi Akiko, at work on her masks in her Tokyo studio... |
| | A documentary that records a filmmaker's personal encounter with the closed society of North Korea (the Democratic Peoples Republic of Korea)... |
| | Available only in the collection of four films made by Solrun Hoaas on Hatoma Island: THE HATOMA FILMS. Search under this title on the Ronin website: https://www... |
| | NOW DIGITALLY REMASTERED A series of four films by Australian filmmaker Solrun Hoaas, about the tiny depopulated island of Hatoma, in Okinawa, Southern Japan... |
| | NOW DIGITALLY REMASTERED. AT EDGE was filmed by Solrun Hoaas in 1978 just after Judith Wright moved to the property 'Edge' in south-eastern New South Wales... |
| | NOW DIGITALLY REMASTERED. 'No Japanese women, or any half castes either, will be admitted to Australia . . . they are simply not wanted and are permanently undesirable,' stated a 1948 instruction from the then Minister for Immigration, Arthur Calwell... |