PYONGYANG DIARIES
Year: 1997
Classification: PG
Runtime: 68 min
Produced In: Australia
Directed By: Solrun Hoaas
Produced By: Solrun Hoaas
Language: Korean dialogue, English narration, English subtitles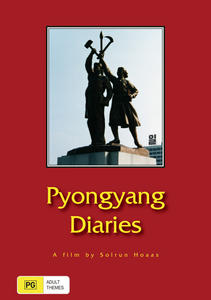 price includes GST and postage

A documentary that records a filmmaker's personal encounter with the closed society of North Korea (the Democratic Peoples Republic of Korea). First in the context of participation in the Fourth Pyongyang Film Festival of Non-aligned and Other Developing Countries in 1994, only three months after Kim Il Sung's death, and on a return visit both as tourist and participant in the same festival two years later in 1996, after floods two years in a row have seriously damaged crops.
In a post-modern landscape that confronts us with showcase monuments and bombastic images of progress, the film explores these images as presentation of an idealised reality, and between them, forms an image of the people through observations, conversations, and personal diary reflections on other experiences at the time of filming. These reveal contradictions, but also give a sense that there are individual human beings living within this very restrictive regime, who are eager for more contact with the outside world.
The film focuses on the almost religious personality cult, emphasis on unity, nationalism and sense of pride in perceived self-reliance, as well as a fear of being misunderstood by the outside world. We are constantly confronted by reminders of the struggle of the past, against the Japanese colonisation 1910-1945, Kim Il Sung's mythologised role in it, the use of religious symbols such as Mt. Paektu, now considered the sacred mountain of the revolution.
In the middle of the hammer and sickle stands the writing brush, as a symbol of the role of artists and intellectuals in the society. The arts play a significant role in boosting the leader image of son and successor-designate Kim Jong Il, and are used to boost morale in a difficult period. The film looks at the role of cinema, through interviews with actors and young drama students. It attempts to find some truths behind the facade by probing and revealing contradictions and evasions.
The film is also framed in an awareness of the worsening crisis of famine in North Korea at the time of editing.
"...a rare and unusual glimpse into the Democratic People's Republic of Korea .. The film stands virtually alone [....] in its balanced, non-ideological and humane attempt to get 'inside' the DPRK and show some of the contradiction, complexity, and diversity of life in today's North Korea." - Charles Armstrong, Asian Educational Media Service (AEMS) Magazine.
PYONGYANG DIARIES has screened at the Berlin, Amnesty International and Amsterdam Documentary Film Festivals.
US sales: www.icarusfilms.com