SACRED VANDALS
Year: 1983
Classification: G
Runtime: 55 min
Produced In: Australia
Directed By: Solrun Hoaas
Produced By: Solrun Hoaas
Language: Japanese dialogue, English subtitles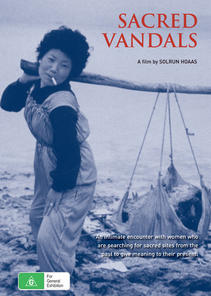 price includes GST and postage
Available only in the collection of four films made by Solrun Hoaas on Hatoma Island: THE HATOMA FILMS. Search under this title on the Ronin website: www.roninfilms.com.au/video/849/0/708.html
The setting is tiny Hatoma Island, population 47, in Okinawa Prefecture - part of Japan, yet not Japanese. This personal documentary invites the audience to share the experiences of the women through informal conversations and through extracts from the filmmaker's own diary.
It reveals the motives of the women, their visions and the conflicts and power games that follow their attempts to 'wake up places that have slept for a long time'. The film focusses on two strong personalities, Yasuko, a lively woman in her fifties who brought up six children and works as a bar hostess in Okinawa. Although she was initiated once as a priestess, dreams warned her not to continue. Her cousin, Sachiko, is tough and articulate and at an early age was recognised as having powers to communicate with the spirits of the dead.
Guided by their dreams and illnesses, the women disrupt the established order of worship on the island which brings them into conflict with the island's priestess who has her own story to tell (in THE PRIESTESS; THE STOREKEEPER).
Highly Commended - ATOM Awards 1984
Special Jury Award, Uni-Japan Competition, Tokyo l984
Festivals: RAI Anthropological Film Festival, London; Bilan des films etnographiques, Paris.