CARING FOR THE LAGOON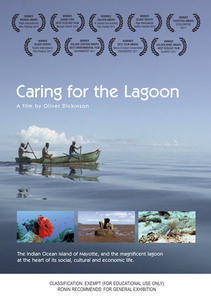 price includes GST and postage
The lagoon of Mayotte, an island in the Indian Ocean, is a microcosm of the challenges facing vulnerable ecological systems world-wide. Its story also offers a model for community action to protect fragile systems.
Mayotte is a French territory and a destination for large numbers of French holiday-makers. The lagoon is one of the largest in the world, with an enclosing reef of nearly 200km in length: it is at the very heart of the island's social, cultural and economic life.
Oliver Dickinson's beautifully crafted observational documentary explores the many ways in which the islanders - the Mahorans - are committed to protecting the lagoon, with its 22 species of marine mammals, 200 species of coral, and 700 species of fish.
Economic development together with an increasing population have put severe strains on the lagoon's marine life. Work to preserve the lagoon starts at the top of the mountains of Mayotte: terrestrial and marine ecosystems are strongly linked together, and the health of the lagoon is vulnerable to mud and waste water.
Fishermen, farmers, tour operators, artists and environmental groups, are all part of the story of creating awareness and building a community culture of "caring" for the lagoon for future generations.
The vibrant music for the film is composed and performed by Eliasse, a young Mahoran composer and master of the guitar, who has been performing on European stages since 1999.
---
AWARDS
Bronze Award, Baku International Film Festival
Grand Prix of Ecology, Warsaw FilmAT Festival
Silver Award, Tourfilm Riga Festival
Golden Award nominee, Al Jazeera Documentary Film Festival
Cousteau Award, Lille Ecollywood Film Festival
Silver Award, Tehran Roshd International Film Festival
Best Environmental Film Award, Jahorina International Film Festival
Best Film on Natural & Cultural Heritage Preservation, European Environmental Film Festival
Golden Wave Award (Best Ecology Film), Silver Lake International Film Festival
FESTIVALS
To Save and Preserve Environmental Film Festival, Russia
Baku International Film Festival, Azerbaijan
Bogota Festival de Cine, Colombia
Karlovy Vary Tourfilm Festival, Czech Republic
Bucharest DocumentArt Film Festival, Romania
Prague Life Sciences Film Festival, Czech Republic
Matsalu Nature Film Festival, Estonia
Brisbane SCinema Film Festival, Australia
Wondering Well Nature Film Festival, Serbia
Belize International Film Festival, Belize
Warsaw FilmAT Festival, Poland
Tourfilm Riga Festival, Latvia
Al Jazeera Documentary Film Festival, Qatar
International Envirofilm Festival, Slovakia
Ostrava Nature Film Festival, Czech Republic
STEPS International Documentary Festival, Ukraine
Dompierre Nature Encounters Film Festival, France
Nova Friburgo SocioEnvironmental Film Festival, Brazil
Lille Ecollywood Film Festival, France
Tehran Roshd International Film Festival, Iran
Kuala Lumpur Eco Film Festival, Malaysia
Ménigoute Nature Film Festival, France
Bratislava Ekotop Film Festival, Slovakia
Jahorina International Film Festival, Bosnia and Herzegovina
European Environmental Film Festival, Bulgaria
Silver Lake International Film Festival, Serbia