WOMAN WITH AN EDITING BENCH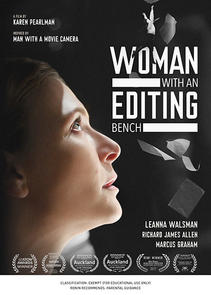 price includes GST and postage

Inspired by a true story, Woman with an Editing Bench pays homage to the creativity of Elizaveta Svilova - the unsung editor behind Dziga Vertov's 1929 documentary masterpiece "Man with a Movie Camera" (No 1 on the 'Sight and Sound' list of Best Documentaries of all time). It uses her revolutionary editing techniques to reveal her thoughts and recuperate her legacy in the history of cinema.
Woman with an Editing Bench is about sustaining creativity and fighting repression. In 1930s Russia, Dziga Vertov and Elizaveta Svilova make radical, groundbreaking films. Stalin, threatened by their innovations, wants his henchmen to suppress them. Vertov, unhappy and artistically constrained, is inept at working with the bureaucracy. Svilova knows how to work the system laterally and from behind the scenes - as all great editors do. She is also adept at working with Vertov's mind, understanding what he wants to say and how he wants to say it. Svilova's editing makes Vertov's genius possible. Vertov's eccentricity makes Svilova's editing genius indispensable.
"A BEAUTIFULLY REALISED AND BRILLIANT HOMAGE TO SVILOVA AND A CELEBRATION OF THE ART OF FILM EDITING" - Lawrie Silverstrin, ASE, Australian Screen Editors Guild Newsletter.
Cast
LEEANNA WALSMAN as Elizaveta Svilova
RICHARD JAMES ALLEN as Dziga Vertov
MARCUS GRAHAM as Boris Shumyatsky
Credits
Writer & Director Karen Pearlman
Producers Lyn Norfor, Richard James Allen, Karen Pearlman
Director of Photography Kieran Fowler
Production Designer Bethany Ryan
Costume Designer Anna Cahill
Editor Karen Pearlman
Music Caitlin Yeo
Supervising Sound Editor Andy Wright
A Physical TV Company Production
---
WINNER! Best Short Fiction, SAE ATOM Awards 2016
WINNER! Best Editing in a Drama - Short Film, AUSTRALIAN SCREEN EDITORS GUILD ASE ELLIE AWARDS 2016
WINNER! Best Female Actress, AUCKLAND INTERNATIONAL FILM FESTIVAL, Summer 2016
WINNER! Best Music Score, AUCKLAND INTERNATIONAL FILM FESTIVAL, Summer 2016
WINNER! SILVER REMI AWARD, Historical Short Productions, WORLDFEST HOUSTON INTERNATIONAL FILM FESTIVAL 2017
WINNER! Special Jury Prize for Best Short Film, REEL SYDNEY FESTIVAL OF WORLD CINEMA 2017
WINNER! Grand Jury Awards: Best Short, Honorable Mention, DANCES WITH FILMS (Los Angeles) 2017
WINNER! Best Editing, SCRUFFY CITY FILM & MUSIC FESTIVAL 2017
FINALIST Best Docudrama, SAE ATOM Awards 2016
NOMINEE Best Sound for a Short Fiction Film, AUSTRALIAN SCREEN SOUND GUILD ASSG Awards 2016
---
WATCH THE TRAILER: vimeo.com/223402365
---
"Woman with an Editing Bench does more than reclaim a piece of cinema's founding story: it aims to understand editors' broader role in the process of co-writing and producing films. ... Where (the film) differs from most other new short films is that it also qualifies as an original contribution to scholarly thought, having been produced through Macquarie University's Creative Ecologies Lab, a haven within the academy for around 20 artist-scholars working in dance, performance, music, creative non-fiction and film."
- Lauren Carroll Harris, RealTime, 23 August 2017
For the full article, see: www.realtime.org.au/woman-with-an-editing-bench-how-do-film-editors-think/
---