NEW BEIJING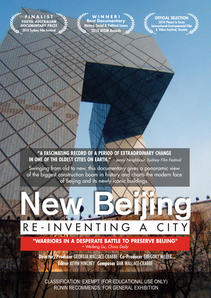 price includes GST and postage

DVD includes over an hour of extra features including extended interviews with participating architects.
---
Swinging from old to new, this documentary gives a panoramic view of the biggest construction boom in history and charts the modern face of Beijing and its newly iconic buildings.
China is experiencing the biggest construction boom in world history, as the country emerges as the economic powerhouse of the 21st century. Beijing is experiencing the most rapid redevelopment since Haussmann redesigned Paris in the 19th Century. Now little of the old city of Beijing remains.
In NEW BEIJING, internationally acclaimed architects - Paul Andreu, Australia's John Bilmon, OMA'S Ole Scheeren, and Rory McGowan, Director of ARUP China - show us the landmark buildings they have designed for the new city, and discuss the process of working in China. Artist and architectural designer, Ai Wei Wei, comments on the rapid changes to the face of the city.
The impact of Western architects in China may be greater than just the iconic buildings they leave behind. Some Beijingers express concern that their buildings are not culturally appropriate and question whether they are indeed the best of international architecture.
Qianmen, a historic district and the traditional home of Beijing Opera, was demolished and re-constructed with Beijing authorities unveiling it for tourists in 2008 as a bizarre "restoration" of "Old Beijing".
Local resident, Zhang Jinqi, launched an inspirational project to photograph Qianmen and other old districts of the city in the face of the widespread demolition. Gathering other local residents to document the changes to their neighborhoods, with funds from the Ford Foundation, the project grew to encompass six Chinese cities.
In January 2009 Zhang and his colleagues open their photo exhibition called "Memory of China", documenting the vanishing cultural heritage in cities across China.
The architects of the iconic buildings and their future visions contrast with Zhang's vision for preservation of cultural heritage. The film raises questions about the future of China and all our futures, but firstly it is a portrait of a city, with a strong cultural and intellectual identity, which is disappearing overnight.
With 400 cities of the size of Beijing planned to be built by 2020, China has little time to reflect on its past.
---
"A fascinating record of a period of extraordinary change in one of the oldest cities on earth." - Jenny Neighbour, Sydney Film Festival.
"Warriors in a desperate battle to preserve Beijing." - Weifeng Liu, China Daily.
---
WINNER! Special Mention Award and Honorable Mention at the 2011 Archaeology Channel International Film and Video Festival
WINNER! Best Documentary - History, Social & Political Issues, 2010 ATOM Awards
FINALIST - Foxtel Australian Documentary Prize, 2010 Sydney Film Festival
OFFICIAL SELECTION - 2010 Planet in Focus International Environmental Film & Video Festival, Toronto