RUNNING WITH CRUTCHES (original title: ShoPaaPaa)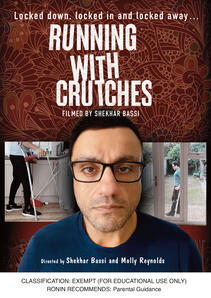 price includes GST and postage

'A HEART FELT, HEART-BREAKING MEMOIR OF THE COVID LOCKDOWNS and the struggle of one man, living with severe physical disabilities and fighting to continue to live independently. A remarkable film made with courage and honesty that deserves to be seen and respected." - Andrew Pike, Ronin Films.
8.4 rating on iMDB.
The COVID-19 pandemic began a new era of uncertainty. One person, Veyd, is still standing albeit with the aid of crutches, observing the chaos of past and present from his effective incarceration.
Being physically vulnerable, Veyd has been 'shielded', totally isolated, in suburban London for the previous six months. He will continue to be so - imprisoned indefinitely, or at least until it is safe for him to leave which won't be anytime soon. Somehow, he still believes the future is bright.
Cinematically bold and intellectually mesmerising, Running With Crutches is an exploration of the line between drama and documentary in the worst of times and the best of times, and a powerful reflection on living with disabilities in the midst of a national health crisis.
Under its original title of ShoPaaPaa, the film screened at the following festivals:
Adelaide Film Festival, 2020
Sydney Film Festival, 2021
Luke Buckmaster of The Guardian declared it one of the Top 10 films to see at the Sydney Film Festival.
For excellent Production Notes and Directors' Statements by both Molly Reynolds and Shekhar Bassi, see the Press Kit. See link below for downloading the Kit.
"Shekhar Bassi is my friend, an actor and a film-maker. His personal situation is profoundly challenging, yet Shekhar manages to transcend it with grace and optimism. I had been keen to work with Shekhar for some time, so when the year, 2020, placed him in the eye of the storm and he recognised it, he finally agreed to my crazy proposition of us making a film together, even though geographically we were half a world apart. Little did I know then that he was going to create a gentle character of steely resolve and play him with measured nuance to remind us that most days lived can be good days." – Molly Reynolds, Co-director.
Directors: Shekhar Bassi and Molly Reynolds
Producers: Rolf de Heer, Shalinder Bassi, Molly Reynolds
Editor: Tania M. Nehme Camera: Shekhar Bassi
Sound Designer: Tom Heuzenroeder
Colourist: Mark Eland
Presented by Adelaide Film Festival in association with Intelligent Ink Films (UK) and Vertigo Productions.
VIEW TRAILER HERE: vimeo.com/777952166
Related files