Molly Reynolds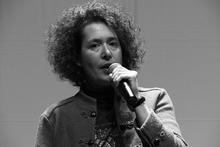 Molly specialises in screen-based storytelling and cross-platform production. She has produced, written and/or directed a number of internationally recognised websites and documentaries including Another Country, Still Our Country, What Makes Me, Twelve Canoes, Peter Churcher and The Balanda & the Bark Canoes.
Molly is a screen practitioner who is passionate about education and training. Molly has sat on course advisory and recommendation panels for the NSW Department of Education, review panels for TAFE NSW and advisory panels for TAFE SA. As a member of the CREATE Australia National Project Steering Committee, she advised on the national qualifications and frameworks for film, radio and multimedia and was a director on the Arts Training NSW and AIMIA boards. Whilst working at the Australian Broadcasting Corporation, she co-developed and delivered courses with ABC Training and Development. She has taught at TAFE NSW and presented and/or lectured at Film Australia, University of Technology, University of Sydney, Macquarie University, Australian National University, University of SA and AFTRS.
Molly was an Adjunct Professor at Carnegie Mellon University's Entertainment Technology Centre in 2007 and 2008. She taught master's degree students majoring in entertainment technology, virtual environments and sophisticated game-play.
Filmography
| | |
| --- | --- |
| | In the wake of the international success of TEN CANOES, Rolf de Heer has collaborated again with the Ramingining community of north Arnhem Land in making this series of twelve short documentaries that together paint a visual and audio portrait of the people, history, culture and place of the Yolngu people... |
| | "No one from any government has ever known our language. … How can they know us?" - David Gulpilil Legendary Aboriginal actor David Gulpilil tells the story of what happened when his people's way of life was interrupted... |
| | ­A poetic celebration of country and culture, Still Our Country documents the swiftly changing lives of the Yolngu people of Ramingining in the Northern Territory... |
| | This lively and eye-opening documentary is a companion film to TEN CANOES, the landmark feature film which Rolf de Heer made with the people of the Arafura Swamp in Central Arnhem Land... |
| | "I'm an actor, I'm a dancer, I'm a singer and also, a painter. This film is about me. This is my story of my story... |