GREEN TEA AND CHERRY RIPE
Year: 1989
Classification: G
Runtime: 56 min
Produced In: Australia
Directed By: Solrun Hoaas
Produced By: Solrun Hoaas, Karen Foley
Language: English and Japanese dialogue, English subtitles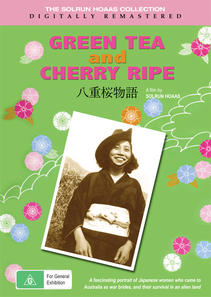 price includes GST and postage

NOW DIGITALLY REMASTERED.
'No Japanese women, or any half castes either, will be admitted to Australia . . . they are simply not wanted and are permanently undesirable,' stated a 1948 instruction from the then Minister for Immigration, Arthur Calwell.
GREEN TEA AND CHERRY RIPE tells the story of six Japanese women who married Australian servicemen after the Second World War, their efforts to build new lives in Australia and the challenges they faced in an alien land.
In 1945 Japan was a bombed-out nation in ruins, its people living in poverty. Precious kimonos were exchanged for rice. Australia was one of the nations that provided men for the Allied Occupation forces; officially they could not socialise with the Japanese.
Eventually about 600 of these servicemen married Japanese women, and, after considerable resistance from the Australian Government, brought their wives to Australia from 1952 onwards.
The women came to a new homeland which made some of them feel uneasy and strangely out of place. Their new families wanted them to become Australians, but their own language and lifestyle often prevented them from adapting and communicating. Their ways and means of coping were as varied as their reasons for marrying, with resilience a common trait.
The establishment of Sukiyaki House, the first Japanese restaurant in Melbourne, provided a home-way-from-home and a sense of camaraderie that lessened the isolation for many of the women who worked there. We see this group in a meeting of the 'Association of the Double-Petalled Cherry Blossoms', enjoying at last a second blooming.
Some of the footage in GREEN TEA AND CHERRY RIPE was shot at Sukiyaki House, while other scenes were shot in the intimate surroundings of the family homes of this unique group of women. The film also contains long-unseen archival footage of the Australian Occupation Forces, remarkable family photographs, actuality footage and a musical soundtrack of popular songs from both Japan and Australia in the fifties. These elements combine to produce a touching portrait of women facing a new society, confronting pressures to conform to Anglo-Saxon manners and mores, and finally triumphing in an often unfeeling and sometimes hostile land.
AYA, a feature film by Solrun Hoaas, is a fictional treatment of a similar subject. AYA is also available from Ronin Films.
Festivals: Cinema du Réel, Paris (Competition), Margaret Mead Festival, Melbourne Film Festival
[includes STUDY GUIDE]
Related files